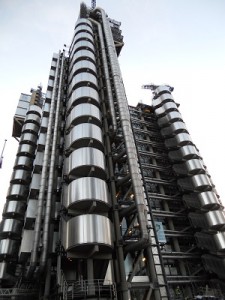 Tuesday 13 May 2014 – The debate over whether climate change is a man-made phenomenon is no longer as important as the debate over how to plan for, and mitigate, the risks posed by it. (source: Lloyd's of London)
The past year has been one of many weather extremes; several all-time temperature records were set in both the Northern and Southern Hemispheres, death Valley in California hit 129.2 °F (the hottest temperature ever recorded in June on Earth), and January 2014 was the wettest month in the UK since 1767. We talk to Lloyd's Chairman, John Nelson, about the implications of extreme weather conditions for insurers, and how they should be tackling the issues.
Why is climate change so important to you?
None of us should be in any doubt that climate change is happening, and that sea levels are rising. I have a personal interest in this issue as I live close to Chichester – which has the largest natural harbour in the UK. It is an area of spectacular natural beauty and the wetlands are renowned for the the birds and wildlife they attract. But the local community is now having to manage a retreat of the flood defences to account for the rising sea levels.
Thirteen of the 14 warmest years on record have all occurred in the 21st century. Each of the last three decades has been warmer than the previous one. The cost of global disasters has risen from an annual average of about $50bn in the 1980s to close to $200bn over the last decade. Of course, there are many reasons for this – demographic change and the change in values of assets, but climate is a factor.
At Lloyd's, virtually every class of business we write is affected by rising temperatures and the increase in catastrophic events. Of course there are the obvious business areas that are affected like property, catastrophe and crop insurance, but Superstorm Sandy was responsible for claims of up to half a billion dollars for fine art, which is less surprising when you consider that beachfront homes command large real estate prices.
What do you think the insurance industry should do to mitigate climate change?
Lloyd's has published a report Catastrophe Modelling & Climate Change which calls for the insurance industry to think about climate change and the potential impact it will have on their bottom line. As part of this, insurers should ensure that the tools they use – and I am expressly thinking about models here – adequately measure and price risks, including the influence of climate change.
We can work together as an industry to mitigate the impact of climate change through adaptation – this means, for example, using water membrane bricks or building houses on stilts to reduce the effect of floods.
Insurers have a close relationship with the building industry. I think we can be proud at what this partnership has achieved on reducing the risk from earthquakes – by encouraging the use of building codes in policy documents which encourage adaptation to risks. Can we do the same for climate change induced flooding now? I very much hope that the industry can use the tools which it has at its disposal – from premium rates charges to policy wordings to make the world a little more resilient to climate change.
You recently travelled to Mexico to talk about climate change, what are the challenges specifically faced there?
The cost of catastrophes in Mexico is going up. Between 1980 and 1999 the average yearly cost of catastrophes like cyclones, floods and droughts was 730 mn pesos. That's grown to over 21 billion n pesos between 2000 and 2012.
Its geographic location means that over the next few decades, temperature increases in Mexico will surpass global increases. Higher temperatures won't just increase the frequency of catastrophic events – they will impact on agricultural yields, the spread of disease and the survival of livestock.
According to the Intergovernmental Panel on Climate Change (IPCC), coffee production in Veracruz is projected to decline 34% by 2020 if historic temperature and precipitation trends continue, affecting hundreds of thousands of households.
The Mexican Climate Modelling Network has done some very interesting work looking at the vulnerability of Mexico's strategic assets. They have found that a substantial number of Mexico's energy installations are located in areas where there is a high risk of flooding. A quarter of Mexico's population and more than seven million homes are at risk of floods and landslides. And this affects all of us in insurance: we will be at the vanguard of the industries whose bottom lines are affected by climate change.
Lloyd's reinsures a large proportion of Mexico's artefacts and cultural heritage, so we're very conscious of the impact of flooding on some risk areas which might not be considered!