Shipping: "An Introduction to the Technical, Operational and Commercial Aspects" By Nigel Draffin. is yet another excellent book to have…
Viewers can have a glimpse of this superb book in the following summary:
"Shipping: An Introduction to the Technical, Operational and Commercial Aspects"  is a comprehensive and well-planned book which is easy to read and highly accessible both to newcomers to shipping and to those needing to refresh their knowledge and understanding of this highly dynamic and global industry.
The book covers the essentials of shipping, taking the reader through manning, safety, training,  navigation and communications. It covers classification and insurance, international conventions and maritime law, and it looks at ports, workboats, cranes and dry docks, as well as pilots and agents. The author, Nigel Draffin, discusses charter parties and contracts of affreightment, shipbroking and vessel vetting, and the main costs, such as manning, maintenance, insurance and bunkering. He covers sale and purchase, new building and scrapping, as well as ownership structures, mortgages,  and public and private ownership issues. Not forgotten are the engines and the propellers, speed and efficiency, emissions regulation and pollution.
The book also provides a handy 'where to go for help' section, a glossary of abbreviations and shipping terms, as well as informative appendices illustrating vessel type dimensions and what might be found in voyage and time charter contracts.
The book also includes a Foreword by Peter Hinchliffe OBE, Secretary General, International Chamber of Shipping.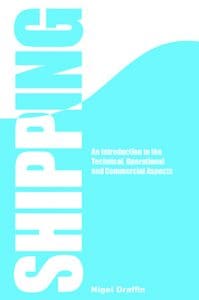 He writes: 'All in all this is a very accomplished piece of work which I am certain will be a great asset to anyone embarking on a carrier in international shipping or wanting to know more about different sectors of this great global industry.'
About the author:
Nigel Draffin has been involved in shipping for almost 50 years and with the commercial bunker market for over 25 years. He is a founder member of the International Bunker Industry Association (IBIA), has served several times on its council of management and executive board, and has served as Chairman.
He is Director of the Oxford Bunker Course and the Oxford Bunker Course (Advanced), a member of the Institute of Marine Engineering, Science and Technology, and Past Master of the Worshipful Company of Fuellers. He is Senior Broker and Technical Manager of US-based broking house LQM Petroleum Services.
He has written extensively about bunkering and previous books include the best-selling and wellrespected An Introduction to Bunkering, Commercial Practice in Bunkering, and An Introduction to LNG Bunkering (all published by Petrospot). Copies of Shipping: An Introduction to the Technical, Operational and Commercial Aspects are available for review.
To obtain a review copy, please contact: Lesley Bankes-Hughes, Director of Publishing (email: lesley@petrospot.com).
For further book details, please go to:  www.petrospot.com/books or contact: +44 1295 814455  Lisa Jacobs, Tel:     +44 1296 682051,  Web:   www.elabor8.co.uk
ISBN: 978-1-908663-19-1
Published by Petrospot Ltd (www.petrospot.com)
Publication date: 19 May 2014
Price: £75/$125/€90
"Jo"