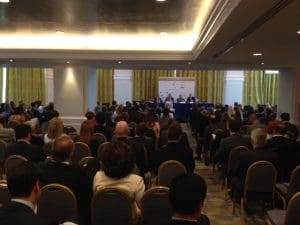 Offshore deep-water drillers preparing for resurgence, Posidonia delegates are told,  By James Brewer
Operators of offshore ultra-deep water rigs are hoping for a material improvement in market conditions in 2016 which could endure for several years, an audience at the Capital Link Shipping Forum heard during Posidonia Week.
Only five companies are 100% focused on the specialist activity, and experts following the business expressed their confidence in what is believed to be the strongest sector of its type at this stage of the cycle.
The operators work in waters 7, 500 ft deep and potentially up to 12, 000 ft, with units that can cost $600m each.
They have had to accept lower day rates in recent months, but are looking to a tightening of availability as the newbuilding delivery rate cools. Some 40 units were ordered in each of 2011 and 2012, but in 2013 only 40 units were ordered, and in 2014 even fewer.
Analysts expect hire rate softness to last possibly through 2015, but thereafter rates could even exceed the previous high of $600, 000 daily seen in 2013.
Elias Sakellis, a director of Pacific Drilling, said there was no doubt that over the last year the market had softened. Activity had slowed. In the first half of this year, 15 rig-years had been awarded, compared with close to 50 in the first six months of 2013.
In the short term, there was perceived oversupply, said Mr Sakellis, but "the reality is that is where the bad news stops." In the long term, there were great prospects for ultra-deep water oil and gas as a source of energy. This would start to show over the next 18 months or so.
He said that the Deepwater Horizon disaster in 2010 in the Gulf of Mexico had changed the risk profile and the barriers to entry.
Eleven people died in a gas release and explosion on the rig, which was working on the Macondo exploration well. Fire burned for 36 hours before the rig sank, and considerable quantities of hydrocarbons leaked into the Gulf The oil major had to set aside $42.7bn for the impact and has so far dispensed $14bn for clean-up and $13bn in local compensation claims.
Anthony Argyropoulos, founder of Seaborne Capital Advisors, stressed that the fleet had assets capable of operating in the mid-water market too. Generally speaking, the mid- and deep-water fleet was very old – it had units which dated back as many as 32 years. The Macondo well incident had meant tremendous constraints on using older assets: hence a bifurcation in the hire rates. "The older assets will face a tougher time to work through."
Taking up that theme, Michael Sapounzoglou, finance director of Metrostar, said: "It is technically not possible to upgrade [elderly units]. There is a clear distinction in the market which favours the newer assets." In 2020 there would not be enough rigs in the market, notwithstanding lower exploration and production. "Long term, it is a very, very strong market."
GBI Research UK, quoted by the site Energy Global, has said that subsea hydrocarbon production facilities are expected to witness market growth to around $130bn in 2020, from $27bn in 2011.