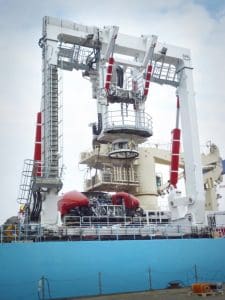 2014 continues to be a busy year for Protea with the delivery of an advanced trencher handling system to Canyon Offshore Limited.
Designed to allow the safe launch and recovery of Canyon's latest trencher, the T1500, the 35t SWL launch and recovery system was recently mobilised on the Maersk Responder and is now operational in the North Sea.
"We worked closely with the Canyon Offshore project team to develop a system that was tailored to their precise requirements and incorporated the key features they had specified based on many years of operating subsea trenchers. These included the ability to launch and recover T1500 in high sea states, rapid mobilisation and demobilisation on a range of support vessels and ease of operation and maintenance, " said Tomasz Paszkiewicz, CEO of Protea.
The turnkey handling system was designed and manufactured at Protea's modern production facility in Southern Poland and completed an extensive test programme before being shipped to the UK.
"Our facilities allow the comprehensive functional testing of equipment prior to delivery which minimises the risk of any delays during mobilisation and initial operations, " said Michal Balcer, Protea Project Manager. "To date in 2014 we have delivered over 500 tonnes of equipment to the offshore industry."
Following shipment to Roysth, Scotland, a team of Protea's service engineers assisted with the mobilisation of the handling system on the Maersk responder.
"We have been extremely impressed by the service and equipment provided by Protea and look forward to the prospect of working with them again in the future, " said Gary Aylmer, Vice President (Trenching and Renewables), Canyon Offshore.
About Protea
Established in 2001, Protea, from Gdansk, Poland, is an international engineering and equipment manufacturer supporting the offshore and onshore energy industry.
With facilities in Poland & Norway, Protea delivers turnkey handling systems – predominantly for vessels, drilling rigs and oil producing installations.
Protea, a strategic partner of GMC Limited (www.gmcltd.net) , has a proven track record of supplying high quality equipment to discerning global customers with core products including cranes, heave compensated winches and innovative handling systems to meet specific customer requirements.