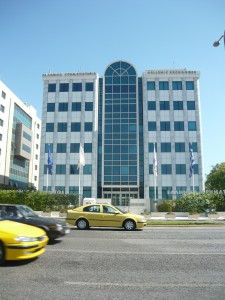 Following on the success of previous such events,  the Athens Exchange will organize The 9th Annual Greek Roadshow in London on September 17th*- 19th 2014  at Bloomberg Headquarters 39-45 Finsbury Square City Gate House, London
Amongst the speakers in the early afternoon of the 19th of September will be the Greek Minister of Finance Gikas Hardouvelis,  and Notis Mitarachi, Deputy Minister of Development & Competitiveness on the 18th of September.
Institutional investors will have the opportunity to meet with senior executives  of Greece's leading listed companies, including those to be privatized.
The format of the event will be one-on-one meetings, and may include small group meetings, depending on investor demand.
For further information, or to register to the conference, viewers can contact the participating sponsors,  or Athens Exchange at agr@helex.gr
For their facilitation viewers can log on herebelow: AGR Register Now 2014 Final 28 AUG
* afternoon sessions only