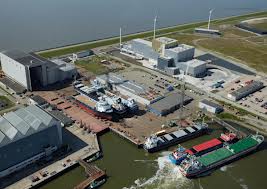 By combining Damen's capabilities in Shipbuilding, Research and Services, they are now able to offer a cost effective alternative to retrofitting fixed BWT systems.
Damen has developed a unique InvaSave Mobile Ballast Water Discharge Technology which enables port based ballast water management. The mobile solution means ballast water only needs treating at the point of discharge, in contrast to fixed onboard BWT installations that also need to treat ballast water at intake.
Gert jan Oude Egberink, Damen Manager Ballast Water Treatment, comments: 'We have been looking for what we can do to help our customers regarding ballast water treatment and finding alternatives for those owners who may not want to retrofit a ballast water treatment system, perhaps because their ships operate on fixed routes or their ships are too old and make the investment in a system prohibitively expensive. Ports may also need to provide back-up, in case a ship's onboard treatments systems fail.'
Damen InvaSave 300 container
Damen can deliver the system as a self-sufficient mobile container, which can be put on board of a Damen Ballast Water Treatment Vessel or be moved around the port on a trailer, a pontoon or other type of vessel. Each Damen InvaSave 300 container unit handles 300m3/h, and it is easy to scale up by using multiple container units.
Visit the Damen InvaSave 300 container at the SMM in Hamburg!
9-12 September 2014 at Hall A1 Open Air Site, Booth #8.
VIDEO
A short video is available at youtube.com
click on: http://youtu.be/ka5AK99Xoc4
Damen Shipyards Group
Damen Shipyards Group operates 32 ship- and repair yards, employing 8, 000 people worldwide. Damen has delivered more than 5, 000 vessels in more than 100 countries and delivers approximately 180 vessels annually to customers worldwide. Based on its unique, standardised ship design concept Damen is able to guarantee consistent quality.
Damen's focus on standardisation, modular construction and keeping vessels in stock leads to short delivery times, low 'total cost of ownership', high resale value and reliable performance. Furthermore, Damen vessels are based on thorough R&D and proven technology.
Damen offers a wide range of products, including: tugs, workboats, naval and patrol vessels, high-speed craft, cargo vessels, dredgers, vessels for the offshore industry, ferries, pontoons and super yachts.
For nearly all vessel types Damen offers a broad range of services, such as maintenance, spare parts delivery, training and transfer of (shipbuilding) know-how. Finally, Damen offers a variety of marine components, especially nozzles, (flap-type) rudders, steering gear, anchors, anchor chains and steel works.
Ballast Water Treatment – Retrofitting     InvaSave 300 – Mobile Ballast Water Discharge Technology