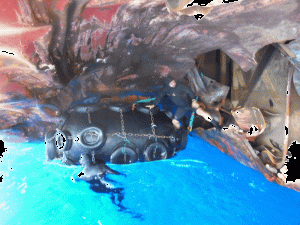 Following the INCE INEBOLU's grounding on rocks at south eastern Astypalaia Island, Aegean Sea, Greece, on the  5th of  Septeber 2014, the casualty sustained substantial damage from the forepeak through to hold number one.
The images attached herein, aptly depicts how TSAVLIRIS embedded/secured a yokohama fender (protected by extra tyres) in front of the collision bulkhead. The purpose of adopting this strategy was to provide a safe buffer against the force of the seawater that would be encountered during the onward towage, drastically averting the overall damage to the casualty.
The bulker "INCE INEBOLU" was on a trip Yemen to Russia on  when it ran aground; she was not carrying any cargo except fuel, diesel and lubs.
Will keep posted on further developments.
Meantime, herebelow is the case so far since it begun: 
On 5 Sept, bulk carrier "INCE INEBOLU" (30, 010 GRT, 52, 380 DWT) in ballast, with about 1, 500 tons of bunkers on board, grounded on rocks at south-eastern, Astypalaia Island, Aegean Sea, Greece during a voyage, from Hodeidah, Yemen to Novorossiysk, Russia.
TSAVLIRIS dispatched S/T "MEGAS ALEXANDROS" (640 GRT, 73 BP) from Piraeus with salvage team and the necessary salvage and anti-pollution equipment. Oil recovery/rescue vessel "AEGIS 1" (1400GRT, 1900 DWT) was also mobilised to the site.
On the 6th September, members of the team commenced inspection on board the casualty whilst divers assessed the underwater damage. The grounding caused significant indentations, cracks and ripped the plating from the forward end of the bulbous bow up to midway through cargo hold no 1, flooding it in the process. Moreover, rocks penetrated the forward part of the same hold's tanktop.
Following the transfer of roughly 800m/t of bunkers from fuel oil tanks (FOT) numbers 1 and 5, to FOT number 3 (centre) and 4 (port side), the deballasting of 2000 m/t from double bottom tank number 2 (port side) and the pumping out of 500m/t of water from cargo hold 1, the casualty was trimmed by stern about 8 metres and subsequently refloated.
Temporary repairs were carried out to the tank top of cargo hold 1 and a yokohama fender (protected by extra tyres) was embedded/secured in front of the collision bulkhead.
The casualty remains off Astypalaia with the "MEGAS ALEXANDROS" standing by.