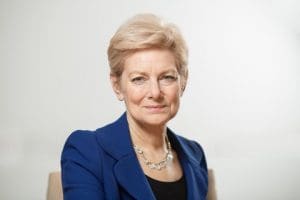 Former head of global research at HSBC joins research group
Bronwyn Curtis, a senior global financial economist, is becoming Chief Economic Adviser of Official Monetary and Financial Institutions Forum, part of an effort to develop further OMFIF's international reach.
Australia-born Curtis, who previously served as head of global research at HSBC, takes over at the international research group from Gabriel Stein, who has been in the post for two years and will now be broadening his role at Oxford Economics.
Curtis, who has also been chief economist at Nomura International and global head of currency and fixed income strategy at Deutsche Bank, is a non-executive director of JPMorgan Asian Investment Trust, vice-chairman of the Society of Business Economists, a governor of the London School of Economics, board member of the National Institute for Economic and Social Research and advisory board member of the Imperial College Business School. She was awarded an OBE for services to business economics in 2008.
In her new role, Curtis will write and speak in different forums about international macroeconomic trends and risks, with particular focus on capital market and asset management themes and financial regulation and supervision.
David Marsh, managing director, said, 'Bronwyn brings valuable experience to OMFIF, particularly with her knowledge of Asia, which is playing an ever-growing part in our activities.'
Curtis said, 'After watching OMFIF's development with great interest, I was pleased to accept the invitation to join a fast-growing organisation. I look forward to engaging with OMFIF Members and contributing to dialogue between public and private financial institutions across a wide field.'
Gabriel Stein, former chief economic adviser to OMFIF, said: 'I have very much enjoyed my work with OMFIF and look forward to remaining part of the wider OMFIF team. Let me also wish my successor the best of luck as she helps to take OMFIF forward.'