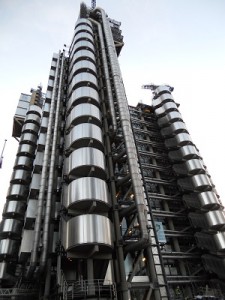 Tuesday 21 October 2014 – The ability to collaborate and respond to the needs of customers has helped R K Harrison Group win Broker of the Year, explains Barnaby Rugge-Price, head of Property & Casualty at the London-based insurance broker. (source: Lloyd's of London)
What winning attributes did the award recognise?
You'd have to ask the judges but our award entry focused on how our employee-owned structure provides a stable environment for growth and a substantial increase in the range of specialist services we offer clients.
Of course, a key partof the customer proposition is our ability to partner with specialist markets like Lloyd's.
How has the Lloyd's market helped you to be a success and win this award?
Lloyd's is a very strong brand internationally. It's something the market has worked hard to build and it's been very successful at it. At a transactional level the market has a long track record of responding to the changing needs in every area of its business as part of developing strong business relationships with insureds.
How does Lloyd's brand and responsiveness help you as a broker?
All this translates into high client confidence in Lloyd's underwriters' ability to respond with appropriate expertise and suitable products for an ever-changing business environment.
Can you give an example of RKH and Lloyd's responding to clients' needs?
RKH worked with Ryan Specialty to create a new facility in Lloyd's that provides cover to a broad range of healthcare and life science clients. Support for the facility – the largest, single healthcare coverholder arrangement in Lloyd's – comes from the leading healthcare markets at Lloyd's. The real key to the success of this programme was the ability to work collaboratively, at speed with such a wide array of independent, expert markets. That's still a unique feature of Lloyd's.
Are you positive about Lloyd's prospects?
Yes, absolutely. RKH is the fifth biggest producer of direct premium to Lloyd's. The Lloyd's brand, its security and its predisposition to innovation in response to risk are all key to our ability to bring new opportunities to market. Single class, multi-class packages, traditional P&C or emerging risks, Lloyd's is a world leader providing a great platform for future success.
What should the Lloyd's market do to ensure its future success?
New distribution channels. Lloyd's is successful at both the micro and macro ends of the market – from motor and household at the small end to the most complex programmes for the world's largest corporations and risks. But it's probably the business between those two extremes that's the biggest opportunity for the future. Success in that market will require new distribution channels that can channel Lloyd's security efficiently and cost-effectively to where it's needed.
What is the secret of RKH's success?
There's no secret! But there are a couple of main differentiators for clients. Our independence and our employee-owned structure enables us to work collaboratively across disciplines to bring the right skills together. It sounds simple, but clients tell us it's not something that every organisation can do.
Why is independence important?
Many of our clients are brokers, so they need to feel comfortable that RKH is a supportive friend and not a potentially competitive foe. As a business we have grown our ability to work with clients across a greater range of disciplines and markets but the philosophy of being a supportive, collaborative international partner has remained the same.
And how is RKH's structure a benefit to clients?
Our employee-ownership structure really resonates with clients. There's a feeling that business owners will run faster, jump higher and generally go the extra mile for clients because it's very much in their own interest to do that. Employee-ownership does engender a collaborative spirit when structuring complex insurance and reinsurance solutions because it encourages people to take ownership of an issue and see it through to a satisfactory result for a client.
RKH's UK retail business achieved Chartered status this year, why was this important?
From every angle becoming Chartered was the right thing to do, it demonstrates to clients, markets, employees and the regulator that we are committed to operating in an ethical, professional, client-focussed way. There's been a great reaction internally too. As a result of achieving Chartered status, we've already had staff coming forward saying they want to take exams and be part of it.
R K Harrison Group was awarded Insurance Broker of the Year by industry publication Insurance Insider, the second time it won the accolade in three years.