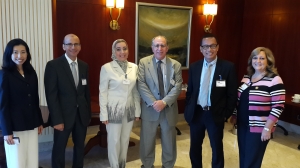 On 19 October 2014, ABS hosted an Offshore Support Vessel (OSV) seminar in Alexandria, Egypt, where the subjects of new-generation OSVs and sector evolution were presented. The seminar brought together ABS representatives from Dubai, Singapore, Japan and Houston, who explained current market trends and recent research and technology developments in the OSV market as well as regulatory implications, OSV software and enhanced notations for OSVs.
More than 30 clients attended the seminar, which was opened on the first morning by Mike Sano, Manager of ABS Energy Development, OSVs. The opening session focused on a range of current OSV topics, including the makeup of the global OSV fleet; current subsea trends; dynamic positioning notations; considerations for LNG as fuel; regulatory updates on the SPS Code and considerations for MARPOL Annex IV.  Sano also highlighted recent capability enhancements for multi-functional OSVs and how some are being outfitted for harsh-environment operations.
Ahmad Zaki, ABS Country Manager of Egypt, presented notations for specialized services, including CCO, DPS-1, 2, 3, ENVIRO and HAB(WB). And Dr. Yuka Tamura, Senior Engineer at ABS, working at the Singapore Innovation and Research Center, talked about the new IMO Code for noise on board ships, explaining that the new noise level requirements are closely related to crew habitability and are an important factor for crew safety, productivity, morale, overall wellbeing and crew performance.
ABS Director of Offshore Technology and Business Development in Singapore, Ahmad Sarthy, provided an overview of the ABS software that was developed to help clients maintain consistency and accuracy in the application of the ABS OSV Rules.
Conference participants received the advantage of input from a number of ABS specialists, who provided insight to changes in the OSV sector.
"I would like to express my thanks on behalf of my colleagues for ABS' invitation to attend this valuable and well-organized seminar, " said Ibrahim Abou Saada, Technical Manager at Pico Energy.