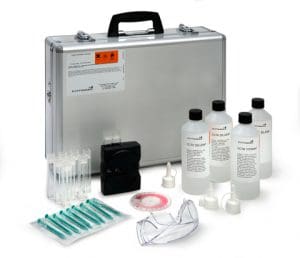 Appointment announced as Parker Hannifin confirms official sub-brand status
LONDON – 19 November 2014 – Parker Kittiwake, the global provider of asset control and protection technology, has today announced the appointment of industry stalwart Larry Rumbol as marine condition monitoring market development manager.
Rumbol's pedigree stems from 35 years in the marine industry, including over 20 years as founder and director of Turbocharger Service International, where he oversaw growth to a turnover of £6.5m.
The appointment comes as Parker Kittiwake moves into a new phase in its development, having recently been granted sub-brand status within Parker Hannifin Corporation, which acquired the company in 2012. Parker Hannifin continually looks to expand its customer product offering by both internal development and the acquisition of new technologies and market spaces. Multiple acquisitions over the years have resulted in the granting of a limited number of Parker sub-brands that recognise the strength of those key brands in the marketplace. The awarding of the Parker Kittiwake sub-brand demonstrates the strength that Kittiwake has achieved in a number of markets, particularly in the field of marine condition monitoring.
Commenting on the appointment, Gavin Friend, business unit manager, said: "We are delighted that Larry Rumbol has taken up this position with Parker Kittiwake. The business is entering an exciting growth phase, not least with the recognition of sub-brand status within Parker Hannifin. Larry has the ideal profile, experience and knowledge to take the business forward in its next phase of development."
Rumbol enters the business as the industry prepares for the changes imposed by European and North American Emission Controls Areas from 1 January, 2015, placing condition monitoring as a key feature of ship operations, as shipowners and operators adapt to new fuels, lubricants and technologies.
Rumbol said:
"Not only was I attracted to Parker Kittiwake as a dynamic company that prioritises product research and development, and logistics, but also to its product portfolio for marine applications, which resonates with my background and area of expertise. This is a lifetime opportunity that I could not afford to miss. Those who know me will be aware that condition monitoring is a subject close to my heart having been involved in pioneering the monitoring of marine turbochargers in the past. I'm looking forward to getting out into the marketplace and discussing the potential for these products with customers."
Despite the challenging financial climate, Parker Kittiwake has achieved double digit growth on last year, boosted by recently-released products including the Cold Corrosion Test Kit, which monitors specific levels of corroded iron in used cylinder oil in less than five minutes.
About Parker Hannifin
With annual sales of $13 billion in fiscal year 2013, Parker Hannififn is the world's leading diversified manufacturer of motion and control technologies and systems, providing precision-engineered solutions for a wide variety of mobile, industrial and aerospace markets. The company employs approximately 58, 000 people in 49 countries around the world. Parker has increased its annual dividends paid to shareholders for 57 consecutive fiscal years, among the top five longest-running dividend-increase records in the S&P 500 index. For more information, visit the company's web site at www.parker.com, or its investor information web site at www.phstock.com.
"Jo"