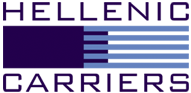 Hellenic Carriers Limited, ("Hellenic" or the "Company") (AIM: HCL), an international provider of marine transportation services for dry bulk cargoes, has been notified that on 10 December 2014, the Chief Financial Officer of the Company, Mr. Alkis Papadopoulos, purchased 30, 000 common shares of US$0.001 each in the Company at 27 pence per share. Following this purchase, Mr. Alkis Papadopoulos has a beneficial interest of 30, 000 common shares of US$0.001 each in the Company representing 0.066% of the issued share capital of the Company.
About Hellenic Carriers Limited
Hellenic Carriers Limited owns and trades through its subsidiaries a fleet of dry bulk vessels that transport iron ore,  coal, grain, steel products, cement, alumina, and other dry bulk cargoes worldwide. The fleet consists of six vessels,  comprising two Kamsarmax, one Panamax, two Supramax and one Handymax vessels with an aggregate carrying capacity of 384, 864 dwt and a weighted average age of 10.9 years.
Hellenic Carriers is listed on the AIM of the London Stock Exchange under ticker HCL.