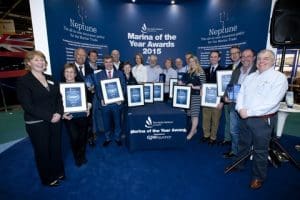 The Yacht Harbour Association (THYA) has announced the winners of its Marina of the Year Awards for 2015, with proud partners GJW Insurance. Now in its second year, the Awards were open to all Gold Anchor accredited marinas both in the UK and overseas. The winning marinas are considered the best by their customers in the UK Coastal, UK Inland, International and Superyacht categories.
TYHA, a group association within the British Marine Federation (BMF), made significant changes to the way the competition is run to make it easier for boat owners and berth holders to vote. Gold Anchor accredited marinas were given automatic entry into the competition and over 3000 people took part by voting.
Now in the second year, the Awards have developed significantly with votes being cast for an impressive 84 marinas. As part of the voting process marina customers were asked to comment on why they felt the marina they were voting on was the best with excellent customer service topping the polling.
The winners and runners up were:
UK Coastal Marina of the Year 2015 (over 250 berths)
Mayflower Marina – Winner
Royal Quays Marina – Runner up
UK Coastal Marina of the Year 2015 (under 250 berths)
Newcastle City Marina – Winner
Southampton Town Quay Marina – Runner up
UK Inland Marina of the Year 2015
Overwater Marina – Winner
Caen Hill Marina – Runner up
International Marina of the Year 2015
Marina de Vilamoura – Winner
Marina de Albufeira – Runner up
Superyacht Marina of the Year 2015
Porto Montenegro – Winner
IGY Rodney Bay Marina – Runner up
Charles Bush of Mayflower Marina, winner of the UK Coastal Marina of the Year 2015 (over 250 berths), commented: "I am really thrilled to accept this prestigious award on behalf of everyone at Mayflower Marina. It is a particularly special achievement because the outcome is determined by customer nomination and in our business there can be no greater accolade. We are all extremely grateful to our customers for their on-going support and friendship and I am indebted to my staff for their efforts and good humour in delivering a very good customer experience."
Jon White, General Manager of The Yacht Harbour Association commented: "I congratulate all the winning companies and runners up. The increased number of marinas nominated makes all the finalists achievements even more impressive, they clearly know how to look after their customers! Our feedback is that the Awards have encouraged Gold Anchor accredited marina operators and their staff to go that extra mile and build even closer relationships with their berth holders supporting our objective of raising customer service standards!".
Winners and runners up of the prestigious Awards received laser-etched glass trophies and framed certificates to proudly promote their achievement at their home marinas.
The Yacht Harbour Association is an association within the British Marine Federation (BMF) , the trade association for the leisure, superyacht and small commercial marine industry
The Yacht Harbour Association (TYHA) was established to support and develop the marina industry according to the needs of UK and International members.
TYHA supports its membership by networking the industry together, setting industry standards and measuring marinas against them. Working with complementary industry bodies helps to promote and support its members.
The association provides services to 475 members based in 26 countries globally listed onwww.whichmarina.com