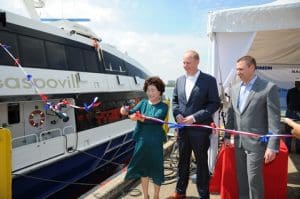 Seaspovill, the South Korean operator, took delivery of its second Damen Fast Ferry at a ceremony held at Damen Shipyards Singapore recently. Attending the ceremony was Chairman of Seaspovill Mr Park Jung Hak and his wife, Mrs ChoiYeonHee, who christened the vessel Sea Star 5. Also present was Captain ParkYeongChulof the Korean Register of Shipping.
Seaspovill approached Damen with the order for the Damen Fast Ferry 4212 as a result of the vessel's efficient fuel consumption and excellent sailing performance. This is essential for the often-rough seas of the 80 nautical mile route on which the vessel will operate.
An additional advantage is that Damen keeps this successful model on stock, ensuring a fast delivery time.Seaspovill ordered the ferry last year and, in a short time, Damen had customised the vessel to the needs of the client in time for delivery just ahead of the tourist season, which commences in March.
The DFF 4212 is a catamaran passenger ferry 42.2m in length with a beam of 11.6m. She will transport up to 450 people between Gangneung on the east coast of South Korea and the island of Ulleung-Do. The passenger capacity is distributed over the main deck, which can accommodate 306 persons, and the upper deck, which caters for 144. Powered by her four MTU main engines (16V2000 M72), Sea Star 5 can reach considerable speeds exceeding 40 knots.
High levels of comfort are a theme throughout the passenger spaces, all of which are air-conditioned with temperature control and on-demand air supply. The main deck features 30-inch television screens and DVD players for passenger entertainment as well as a kiosk serving refreshments. A toilet area consists of seven toilets, including a disabled facility with wheelchair access. Sea Star 5 has a spacious cargo room for the storage of baggage and other light goods.
The attention to comfort also extends to the wheelhouse, from where the vessel is operated by a crew of three. As well as comfort, the DFF 4212 is designed and built to comply with the international code of safety for High Speed Craft, 2000 HSC Code.
Speaking of the delivery, Damen Shipyards Sales Manager Asia Pacific Michiel Hendrikx, said "This second order for a Damen Fast Ferry from Seaspovill is important as it is the first new delivery of a ferry to South Korea since the tragic sinking of the Sewol ferry in the country last year. Seaspovill have acted commendably in investing in a new, safety-conscious vessel at the earliest opportunity. In doing this the company has demonstrated to its passengers and to the South Korean authorities that it sees safety as the highest possible priority."
Damen Shipyards Group
Damen Shipyards Group operates 32 shipbuilding and repair yards, employing 9, 000 people worldwide. Damen has delivered more than 5, 000 vessels in more than 100 countries and delivers some 160 vessels annually to customers worldwide. Based on its unique, standardised ship-design concept Damen is able to guarantee consistent quality.
Damen's focus on standardisation, modular construction and keeping vessels in stock leads to short delivery times, low 'total cost of ownership', high resale values and reliable performance. Furthermore, Damen vessels are based on thorough R&D and proven technology.
Damen offers a wide range of products, including tugs, workboats, naval and patrol vessels, high speed craft, cargo vessels, dredgers, vessels for the offshore industry, ferries, pontoons and superyachts.
For nearly all vessel types Damen offers a broad range of services, including maintenance, spare parts delivery, training and the transfer of (shipbuilding) know-how. Damen also offers a variety of marine components, such as nozzles, rudders, anchors, anchor chains and steel works.
In addition to ship design and shipbuilding, Damen Shiprepair & Conversion has a worldwide network of 15 repair and conversion yards with dry docks ranging up to 420 x 80 metres. Conversion projects range from adapting vessels to today's requirements and regulations to the complete conversion of large offshore structures. DSC completes around 1, 500 repair and maintenance jobs annually.
"Jo"