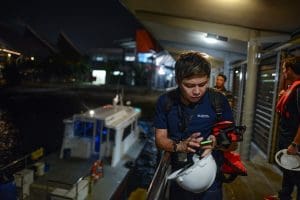 With Royal Caribbean's headline-grabbing Quantum of the Seas home-ported in Shanghai for 2015 and TUI Cruises launching its inaugural Asian season; all eyes are on Asia's rapidly expanding cruise market.
However, while Asia may be unexplored territory for many cruise owners and ships service suppliers, Wilhelmsen Ships Service (WSS) is established and already servicing numerous local and international cruise customers across the entire Asia Pacific region. Boasting an industry-leading cruise-specific ships agency network, spanning over 20 countries in the region including Australia, China, Japan, Korea, Malaysia, Taiwan and Thailand, WSS covers over 140 ports.
WSS's cruise-dedicated teams offer a full range of agency and husbandry services including crew change, passenger embarkation/disembarkation, crew/passenger medical arrangements and advice on CIQ procedures, as well as the handling of supplies and ship spares.
In addition, WSS's agency staff can organise the delivery of the company's marine and safety products, Unitor and Nalfleet chemicals and maritime logistics, along with offering bespoke localized services.
WSS's unique blend of expertise, regional knowledge and global network is valued by customers across the entire region, but it's a particularly prized commodity in one of Asia Pacific's fastest growing cruise markets, Malaysia.
New market, established routines
With passenger numbers consistently rising year on year and companies such as Princess Cruises extending their sailings in 2015, Malaysia is a key growth area for the Asian cruise market. Currently representing a number of prominent international cruise owners and operators, WSS Malaysia has been servicing the cruise industry for almost 30 years from its network of ten offices, supporting all the major cruise ports in both Malaysia and Brunei, including Malacca, Langkawi, Tioman Island, Sandakan and Muara.
Time poor, expertise rich
Michael Tay, WSS's Ships Agency Service Manager for Malaysia, believes his team's ability to work systematically and efficiently against the clock is one of the things that sets them apart from their competitors.
"Cruise port calls are typically short, with some averaging just 12 hours. With time of the essence, consistently coordinating the timely and safe berthing of vessels with all the necessary local authorities for fast clearance and disembarkation of passengers is vital."
Being able to offer additional products and services alongside their agency business has also proved to be a key selling point for WSS according to Tay;
"In addition to consistently providing agency services we also coordinate the delivery of supplies and services from the wider WSS portfolio. Being able to offer our cruise customers such a complete package of services and products, has been a key factor in our continued success."
Providing a snapshot of WSS's considerable agency experience and expertise in one of Asia Pacific's most promising cruise markets, it is clear to see why cruise owners and operators continue to choose WSS as their preferred agents.
"Jo"