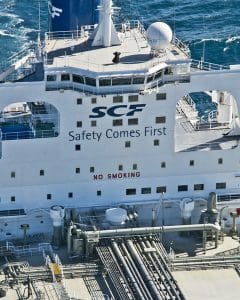 2014 Audited Financial Results
(Year to 31 December 2014) 
SCF's strong 2014 results: combined effect of consistent strategy execution and recovery of conventional tanker market
2014 Highlights
§  Gross revenue increases 9.9 per cent to USD 1, 387.4 million (2013: USD 1, 262.8 million)
§  Time charter equivalent[1] increases 19.6 per cent to  1, 044.0 million (2013: 872.6 USD million)
§  EBITDA: increased 40.9 per cent to USD 538.2 million (2013: USD 382.1 million)
§  Net profit of USD 83.9 million vs. a loss of USD 39.2 million in 2013
§  Three newbuildings delivered: two tri-fueled Atlanticmax ice class Ice2 LNG carriers (Velikiy Novgorod and Pskov  – each 170, 200 m3 capacity) for long-term charter to Gazprom; a second VLCC,  SCF Shanghai, for long-term charter to PetroChina International
§  20-year contracts with Sakhalin Energy for the construction and operation of four  multi-functional icebreaking offshore support vessels for the Sakhalin-2 Project
§  Long term time charters with the Gazprom Group for three ice-class Arc-7 shuttle tankers for Novy Port project, Russia
§  Arc-6 DP2 ice class shuttle tankers Mikhail Ulyanov and Kirill Lavrov start crude oil transportation from Arctic oil field on Russia's continental shelf (Pechora Sea)
§  Nine transit voyages across the Northern Sea Route in the 2014 Arctic navigation season as part of systematic work on development of shipping in the Arctic basin in cooperation with the Russian Transport Ministry, state agencies and oil & gas majors
Sergey Frank, Sovcomflot President and CEO commented:
"Sovcomflot's strong 2014 performance resulted from two major factors. First, we consistently continued to execute our growth strategy in business areas yielding attractive rates of return. Second, our conventional tanker fleet was able to reap benefits resulting from improved market conditions, where we believe there is still some potential for the rates to firm up. These improvements to the top line coupled with enhanced organizational efficiencies being made and lower bunker costs stimulated our earnings growth and our bottom line results for 2014.
"Looking ahead, Sovcomflot Group is well positioned to benefit from the continued positive momentum of the tanker market upswing. The first quarter of 2015 is looking quite promising. Being based on fundamentals we are pretty optimistic that earnings performance in 2015 will exceed that of the previous year".
In the course of 2014, SCF Group has implemented a number of new exciting projects. Our focus amongst other things is to secure a growing share of business from Sovcomflot's industrial fixed rate gas transportation and offshore service activities, has provided a valuable cushion of stable cash flows during the market downturn.
Our recent achievements would not be possible without commitment and support of over 8, 500 members of our international team at sea and ashore. Their commitment and professionalism lie at the heart of our performance."
Evgeniy Ambrosov, Sovcomflot Senior Executive Vice-President, commented: "Sovcomflot performed well in 2014, with a number of new builds received during the year. We took delivery ofVelikiy Novgorod and Pskov,  two advanced design LNG carriers and our second VLCC. The LNG carriers operate under long-term charter agreements with PAO Gazprom and the VLCC is on long-term time charter to PetroChina International.
"Commercial highlights for 2014 included the finalisation of significant new long-term agreements: contract with Sakhalin Energy for the construction and long term charter of four IBSV's, the agreement with Gazprom for the construction and long term charter of three Arc-7 ice breaking shuttle tankers and the agreement with Yamal LNG for the construction and long term charter of the first ice-breaking Arc-7 LNG carrier to serve the Yamal LNG Project. The deliveries of these vessels are scheduled for 2016 and 2017 providing prompt additions to the Group's fixed income industrial fleet. With each new project we are reviewing and implementing the latest technology, ensuring the application of environmental protection programmes, providing our crews with the latest knowledge base of navigational, safety and environmental information.
Nikolay Kolesnikov, Sovcomflot Executive Vice-President, Chief Financial Officer added: "Sovcomflot's stronger operational performance in 2014, with EBITDA growth of forty per cent year-on-year reflecting the contribution of newly delivered vessels as well as the tanker market recovery, resulted in improving the company's credit position, and we have enjoyed stable liquidity and retained access to the international financial markets. This was demonstrated again in December 2014, when the Group concluded a USD 319 million, 10 year project finance facility with a consortium of leading European banks.
"Our industrial shipping business model, together with long-term client relationships with the world's oil majors, provides good earnings visibility. At the end of 2014, Sovcomflot had USD 8.8 billion of contracted future revenues including from our joint ventures. This provides a stable platform underpinning the continued growth and development of Sovcomflot."
Igor Tonkovidov,  Sovcomflot Executive Vice-President, Chief Technical Officer of SCF Group, said: "In 2014 we continued to focus on investment in the development of the advanced engineering and energy saving solutions and innovative technologies for our fleet. Our commitment remains to ensure safety, quality and excellent service to our customers whilst taking due care of the environmental impact.
"During the reporting period much attention was paid to the training and well-being of our professional crews, who represent one of SCF's core competitive advantages. The commitment to our people, as well as being the owner and operator of one of the most technologically advanced and environmentally friendly fleets lies at the heart of our business. Our dedication to 'Safety Comes First' remains deeply engrained within our corporate culture at sea and on shore.
2014 Audited Financial Results
(Year to 31 December)
25 March 2015, Moscow: PAO Sovcomflot ('SCF Group') – Russia's largest shipping company and a global leader in the provision of seaborne energy solutions, has today announced its results for the year to 31 December 2014.
2014 Financial Highlights (IFRS audited accounts)
USD Millions

 

2014

 

2013

% ∆

Gross revenue (Freight + hire)

1, 387.4

1, 262.8

+9.9

Time charter equivalent (TCE)*

1, 044.0

872.6

+19.6

EBITDA**

538.2

382.1

+40.9

Profit/(loss) before tax

91.0

(27.5)

n/a

Net (loss)/profit

83.9

(39.2)

n/a
*Time charter equivalent (TCE) represents shipping revenues less voyage expenses and is commonly used in the shipping industry to measure financial performance and to compare revenue generated from a voyage charter to revenue generated from a time charter
**Earnings before interest, tax, depreciation and amortisation
Gross revenue (Freight and hire) for the year ended 31 December 2014 increased by 9.9 per cent to USD 1, 387.4 million (2013: USD 1, 262.8 million). This reflects an improved freight rate environment, especially in the crude oil market and the Group's increasing focus on its gas transportation and offshore business activities, as identified within its corporate strategy.
Time charter equivalent (TCE) revenues rebounded strongly by 19.6 per cent to reach USD 1, 044.0 million in 2014 (2013: USD 872.6 million).
Earnings before interest, tax and depreciation (EBITDA) for 2014 increased by 40.9 per cent to USD 538.2 million (2013: USD 382.1 million).
The Group significantly improved its profitability in the year to 31 December 2014, with a net profit of USD 83.9 million (2013: USD 39.2 million net loss).
2014 Operating Highlights
Business Segments
Crude Oil Transportation
As at 31 December 2014 supported by a fleet of 60 vessels (2013: 61 vessels).
TCE revenue for the year ended 31 December 2014 increased by 22.4 per cent to USD 421.1 million (2013: USD 343.9 million).
On 25 February 2014 the Group took delivery of a second Very Large Crude Carrier (VLCC),
SCF Shanghai (320, 701 tonnes DWT). She joined her sister ship Svet, delivered in 2013, on long-term time charter to PetroChina International (China).
Oil Products Transportation
This segment includes the transportation of refined petroleum, other oil products and chemicals. At the 2014 year end the segment's fleet comprised 43 vessels (2013: 48 vessels).
TCE revenue for 2014 declined by 1.0 per cent to USD 213.5 million (2013: USD 215.7 million) reflecting a decrease in capacity of the Group's oil products transportation fleet.
Gas Transportation
This includes both LNG and LPG gas tankers, comprising 6 LNG carriers and 4 LPG carriers at the end of 2014 (2013: unchanged).
In 2014, TCE revenues increased by 72.4 per cent to USD 83.2 million (2013: USD 48.3 million), reflecting a combination of factors including an increase in the overall available cargo carrying capacity.
Gas transportation has been identified as a segment of strategic importance to SCF Group. Reflecting this, 2014 saw two new technologically advanced LNG carriers,  Velikiy Novgorod and Pskov, join the Group's fleet.Both vessels are tri-fuel, 170, 200m³ capacity Atlanticmax ice class LNG carriers employed under a long-term charter by Gazprom Group.
Sovcomflot entered the LNG transportation business in 2006, following the acquisition of two LNG carriers from BG Group. These vessels,  SCF Polar and SCF Arctic, facilitated the training of the Group's personnel and provided excellent service throughout. The last of the duo,  SCF Arctic, was retired in November 2014. This followed 45 years of continuous, safe and reliable service, of which the final eight years were under Sovcomflot's ownership and technical management.
Looking ahead, September 2014 saw the steel cutting of the Group's lead vessel in a new generation of highly sophisticated ice-breaking "Yamalmax" LNG carriers, with a planned 172, 600 m3 cargo capacity and an Arc7 ice class classification (RS classification). This represents another clear demonstration of the progress made by Sovcomflot in LNG transportation, since entering the segment only eight years previously.
Offshore Development Services
This comprises the Group's shuttle tanker operations and specialised supply vessels. It also includes additional services provided to offshore development facilities, including the management of floating storage and offloading facilities. As of the 2014 year end, the fleet comprised 13 shuttle tankers (2013: unchanged) and 4 ice breaking supply vessels (2013: unchanged).
TCE revenues for the year ended 31 December 2014 increased 7.6 per cent to USD 222.4 million (2013: USD 207.0 million).
In April, the Group's Arctic shuttle tanker Mikhail Ulyanov (70, 000 tonnes DWT) carried the first shipment from the Prirazlomnoye platform, Russia's first offshore energy project on the Arctic shelf. The cargo was subsequently discharged at the Port of Rotterdam. Mikhail Ulyanov is working alongside the tanker Kirill Lavrov as part of long-term charter agreements betweenSovcomflot and Gazpromneft Shelf (the project operator and a subsidiary of PAO Gazprom).
In August 2014 the oil product tankers SCF Yenisei and SCF Pechora (each approximately 47, 000 tonnes DWT) began transporting the first oil from Novy Port, located in the Gulf of Ob. Both vessels, to be joined by a further tanker, are operated under charter to Gazpromneft. Their work ispart of the Group's commitment to steadily increase the provision of transportation and logistics services in support of the largest oil deposits located in the far north of Russia.
In 2014, Sovcomflot and Sakhalin Energy Investment Company (Sakhalin Energy) signed a contract for the construction and long-term operation of four multifunctional icebreaking standby and supply vessels to serve the Sakhalin-2 offshore energy platforms. The contract runs for 20 years,  during which the vessels will support Sakhalin Energy's platforms in the Sea of Okhotsk. The vessels will also provide accommodation for the offshore personnel and other services, as required.
Other
This business segment accounts for less than 10 per cent of the Group's revenue and includes multi-purpose and bulk cargo carriers, primarily for coal transportation, seismic vessels and other activities. At the end of 2014, the fleet comprised 3 bulk carriers (2013: unchanged) and 1 chartered seismic vessel (2013: unchanged).
In the year ended 2014, TCE revenue increased by 79.4 per cent to USD 103.8 million (2103: USD 57.8 million).
During the period, the Group's seismic exploration vessel Vyacheslav Tikhonov (Ice Class Ice-1A) successfully completed 3D seismic research of the Kara Sea shelf for Gazprom. This represents a new business area for Sovcomflot but an important additional service to offer its clients.
Early in 2014,  Russia hosted the highly successful Sochi 2014 Winter Olympic and Paralympic Games. This followed many years of careful planning and investment, involving a significant number of stakeholders including Sovcomflot. The Group's subsidiary companies Novoship and Sochi Sea Port invested in developing and commissioning a modern yacht marina, and alsofacilitated the partial restoration and modernisation work of a historic building at the sea terminal in Sochi.
Later in May-June 2014, the newly built marine facilities of Sochi were widely used by the participants of SCF Black Sea Tall Ships Regatta 2014 – the sailing regatta which took place in the ports of the Black Sea and for the first time, in Novorossiysk and Sochi. The Tall Ships Regatta was held at the initiative of Sovcomflot acting as the title sponsor of the event.
Northern Sea Route
During 2014, the Group completed nine transit voyages across the Northern Sea Route during the 2014 Arctic navigation season. This pioneering work forms part of Sovcomflot's long-term strategy to develop maritime transportation for hydrocarbons in the Arctic basin.
Awards
In 2014 the Group received international recognition for its achievements from respected organisations in the Americas, Europe and Asia.
The company was ranked fifth among the top 30 world tanker companies in 2014 by the industry magazine Tanker Operator. Sovcomflot's CEO Sergey Frank was rated eighth among the top 50 shipping industry leaders by the British shipping magazine Tanker Shipping &Trade.
Sovcomflot became winner of "Deal of the Year" award by Marine Money magazine for its USD 319 million, 10 year project financing of two ice-class LNG carriers. It is the fifth time in a row that Sovcomflot received the "Deal of the Year" award from Marine Money for its shipping financing activities.
Sovcomflot was shortlisted for an "Industry Leadership" award at the prestigious international Platts Global Energy Awards 2014, held annually in the USA. The Group was nominated in the oil transportation segment (Midstream).
On 27 November, Sovcomflot was named "Company of the Year" at the 2014 Korea-Russia Business Awards.
Fleet
In July 2014, the United States Coast Guard (USCG) confirmed that 20 Sovcomflot vessels had been added to its Qualship 21 programme (Quality Shipping for the 21st Century). Since the beginning of July 2014, the number of Sovcomflot vessels participating in the Qualship 21 programme doubled from 22 to 44 ships.
As at 31 December 2014, the Group's fleet comprised 153 owned and chartered vessels (including vessels in joint ownership with third parties) amounting to over 12.7 million tonnes DWT in total.
There were ten vessels under construction at the end of 2014 (total 423, 200 tonnes DWT), including: two LNG carriers; one ice-breaking LNG carrier; three Arctic shuttle tankers; one multi-functional ice breaking supply (MIB) vessel and three MIB standby vessels. The vessels were all scheduled for delivery between January 2015 and March 2017 and all are employed on long term fixed income charters to oil majors.
A detailed fleet list is available on the Group's website (www.scf-group.com). 
Financial Highlights
Earnings per share for the period ended 31 December 2014 were USD 0.041 (2013: loss of USD 0.02 per share).
Dividends of RUB 0.15 per share were declared on 30 June 2014 and paid on 15 July 2014, amounting to RUB 300.00 million or some USD 9.1 million (2013: RUB 0.15 per share, totalling RUB 300.00 million, equivalent to USD 9.1 million).
In December the Group signed a new USD 319 million, 10 year credit facility with a consortium of leading European banks. The funds are for use towards financing two new ice-class LNG carriers,  SCF Melampus andSCF Mitre, which will operate on long-term contracts with the Shell Group.
A full version of the consolidated financial statements of PAO Sovcomflot is available in the Investor section of the Group's website: www.scf-group.com.
Corporate
On 9 December 2014 the company changed its registered name from OAO Sovcomflot to PAO Sovcomflot. This reflected changes to the Russian Civil Code that came into effect on 1 September 2014 which, amongst other things, abolished the concept of an Open Joint-Stock Company ("OAO") and replaced it with a new descriptor for Public Companies ("PAO").
About SCF Group
SCF Group (PAO Sovcomflot) is Russia's largest and one of the world's leading shipping companies, specialising in the transportation of oil, petroleum products, LNG and LPG. The company's fleet includes 153 vessels with a combined deadweight of 12.6 million tonnes. The company is registered in St. Petersburg and has representative offices in Moscow, Novorossiysk, Murmansk, Vladivostok, Yuzhno-Sakhalinsk, London, Limassol, Madrid, Singapore and Dubai. www.scf-group.com
---
[1] Time charter equivalent (TCE) represents shipping revenues less voyage expenses and is commonly used in the shipping industry to measure financial performance and to compare revenue generated from a voyage charter to revenue generated from a time charter.