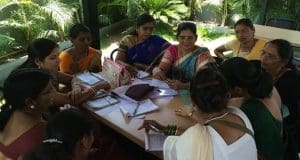 Women activists have achieved a major breakthrough in the overwhelmingly male-dominated MSTKS union in India.
After three years of attending the all-male executive committee meetings as an observer and raising women members' concerns about workplace rights and lack of union representation, Sheela Naikwade became the first woman ever to be elected to the 31-strong committee and attended her first meeting as an executive member on 5 April. At that meeting, the committee unanimously decided to reserve two seats for women at every level of the organisation, from depot to state. 
Speaking from the MSTKS annual general meeting on 5 April, Sheela Naikwade said: "With only male activists in MSTKS, it was too difficult for women to speak openly about the issues they were facing at work, and if they did they were often not taken seriously.
"I felt strongly that I must step forward and provide a voice for women workers. Our success for women in leadership is an extremely rewarding step towards justice for women workers after years of difficult struggle."
Hanumant Tate, MSTKS general secretary, who has been an active promoter of women's rights and union activism, commented that women still faced too many barriers. Having more women leaders would, he said, help the union make real progress on women's issues and make it stronger to fight for and win rights for all workers at the Maharashtra State Road Transport Corporation (MSRTC).
Working on the buses in India is relatively new for women. Currently only 8, 000 of the 110, 000 workforce are women but the MSRTC has committed to employing 30 percent women across the corporation.
Prior to the AGM, Naikwade and ITF assistant women's co-ordinatorJodi Evans ran a donor-funded, week-long course on boosting women's activism in the union's fight against privatisation and gender-based violence.