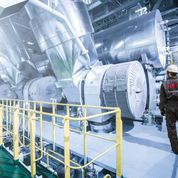 ABB Turbocharging improves engine performance on record- breaking container ships
Baden, Switzerland, April 21, 2015: ABB, the leading power and automation technology group, has designed turbochargers powering the largest ships in the world. First came the China Shipping Container Lines (CSCL) Globe with capacity of 19, 100 TEU completing its maiden voyage in February 2015. This was followed by the Mediterranean Shipping Company (MSC) Oscar at 19, 224 TEU. Both have engines incorporating ABB-designed turbochargers and are each the first of a series of vessels to launch in the coming months also featuring turbochargers designed by ABB.
The largest vessels of any type in service, the CSCL Globe and MSC Oscar are the only container
ships in operation with capacity of over 19, 000 TEU. In addition to their design, which allows this
record-breaking cargo capacity, they host the largest engines on any ship. This advanced engine
technology, coupled with ABB high efficiency turbochargers improves engine efficiency, lowers fuel
consumption and cuts emissions.
The turbochargers designed by ABB, and fitted under license by Hyundai Heavy Industries (HHI) on
both vessels, have a very positive effect on fuel consumption, a key issue for such large ships which
also face the challenge of lowering emissions.
Each ship is equipped with MAN diesel engines. The Globe is fitted with three ABB A185-L
turbochargers, while The MSC Oscar features ABB 180-L turbochargers. In addition the auxiliary
engines on both were designed by ABB, fitted under license by HHI. These two ships are also the
first of a series that will feature the same engine and turbocharger configuration.
"Container vessels have almost doubled in capacity over the last five years, with the cost of fuel
ensuring that increased engine efficiency will remain a high priority for owners and operators. Our
A100-L series of turbochargers was developed based on extensive feedback from marine industry
customers. Meeting the specific requirements of ships of this size, they feature technology widely
proven on the smallest to largest two-stroke marine diesel engines including reduced fuel
consumption and compliance with IMO Tier I, Tier II and Tier III limits and NOx emissions.
"We are very pleased that ABB plays a role in powering both of these huge vessels, with even larger
ships following closely behind." said Arie Smits, Senior General Manager, ABB Turbocharging,
Switzerland.
With a global network of marine service centers and a comprehensive offering of marine systems and
solutions that meet high safety and environmental requirements, ABB delivers reliability, power and
productivity to marine customers all over the world.
For more information about ABB turbochargers on board the world's largest container ships, view our
article: Maritime cargo vessels – is bigger better?
More about ABB Turbocharging
ABB Turbocharging (www.abb.com/turbocharging) is at the helm of the global industry in the
manufacture and maintenance of turbochargers for 500 kW to 80+ MW diesel and gas engines. Our
leading-edge technology and innovation enables our customers to perform better and produce fewer
emissions, even in the toughest terrains. Approximately 200, 000 ABB turbochargers are in operation
across the globe on ships, power stations, gen-sets, diesel locomotives and large, off-highway
vehicles. We have over 100 Service Stations in more than 50 countries globally and a wide service
portfolio that guarantees Original Parts and Original Service anytime, anywhere.
ABB Group
ABB (www.abb.com) is a leader in power and automation technologies that enable utility, industry,
and transport and infrastructure customers to improve their performance while lowering
environmental impact. The ABB Group of companies operates in roughly 100 countries and employs
about 140, 000 people.
Find out more about ABB in the marine industry