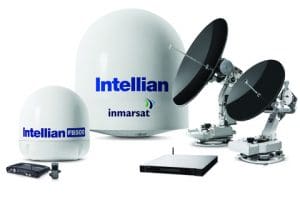 Inmarsat (LSE: ISAT), the leading provider of global mobile satellite communications services, has announced that the Global Xpress (GX) and FleetBroadband terminals manufactured by Intellian, are now approved for use with FleetBroadband Xtra.
Designed to enable maritime customers to benefit from high-speed broadband connectivity, Fleet Xpress is an-integrated Ka-band and L-band solution that utilizes capacity from the first GX satellite in commercial service, 1-5 F1, and Inmarsat's existing Inmarsat-4 fleet.
A key Inmarsat terminal manufacturing partner, Intellian continues to support Inmarsat's GX network services. The recently unveiled Intellian 65cm GX60 and 1m GX100 are both approved for use, along with Intellian's FB250 and FB500 for FleetBroadband Xtra.
Intellian has been working closely with Inmarsat to test its latest VSAT terminals combined with the FleetBroadband systems live on the Global Xpress network. The GX60 and GX100 terminals were extensively tested live at sea last year, and now with the FB250 and FB500 Intellian are able to fully support the new services from Inmarsat. Eric Sung, President and CEO of Intellian Technology commented: "Working together with Inmarsat we are pleased to be able to deliver a complete solution of our proven technology designed to operate well into the future, fully supporting the latest Global Xpress services."
The company is currently offering both 65cm and 1m Inmarsat GX type approved terminals, designed to ensure the best service quality available for the FleetBroadband Xtra service and the forthcoming Fleet Xpress service which will become available when GX begins global commercial services early in the second half of 2015.
Inmarsat has completed the integration, evaluation and testing of the Intellian FleetBroadband Xtra solution incorporating Intellian's GX100 and GX60 GX terminals along with their FB250 and FB500 FleetBroadband systems. "We are very pleased that these Intellian terminals have been approved for use with our FleetBroadband Xtra service. I am proud that the newest service within our portfolio is gaining such momentum in the market that trusted manufacturing partners like Intellian are underwriting this with their terminals, " said Ronald Spithout President of Inmarsat Maritime.
About Intellian
Intellian is the leading global provider of stabilized marine satellite antenna systems. With their varied and comprehensive range of antenna systems including Satellite TV, VSAT, Global Xpress, and FleetBroadband solutions, Intellian supports a wide range of industries, including Commercial Maritime, Offshore Energy, Defense & Intelligence and Luxury Yachting. Intellian. Connect with the best.
About Inmarsat
Inmarsat plc is the leading provider of global mobile satellite communications services. Since 1979, Inmarsat has been providing reliable voice and high-speed data communications to governments, enterprises and other organizations, with a range of services that can be used on land, at sea or in the air. Inmarsat employs around 1, 600 staff in more than 60 locations around the world, with a presence in the major ports and centres of commerce on every continent. Inmarsat is listed on the London Stock Exchange (LSE:ISAT.L). For more information, please visit www.inmarsat.com.
"Jo"