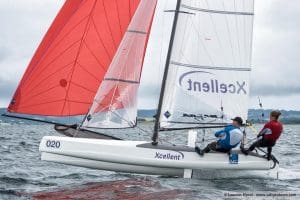 The 2015 Nacra 17 World Championship held in Aarhus, Denmark from 2-10 July was the second opportunity for nations to qualify for the Rio 2016 Olympic Sailing Competition in the Mixed Multihull.
Rio 2016 will see 20 nations on the Nacra 17 startline. Ten places were decided at the Santander 2014 ISAF Sailing World Championships with three further spots available at the 2015 Nacra 17 Worlds.
The three nations to qualify for Rio 2016 from the 2015 Nacra 17 Worlds are:
Aruba
Germany
Spain
Billy Besson and Marie Riou (FRA) won gold at the Nacra 17 Worlds for the third consecutive year following a dominant performance. From nine races the French duo took six victories and a third in the Medal Race sealed the deal.
Australia's Jason Waterhouse and Lisa Darmanin took silver whilst Mandy Mulder and Coen De Koning (NED) picked up bronze.
As hosts, Brazil automatically receives a place on the start line. Six places will be awarded via a series of Continental Qualification Events sanctioned by ISAF, to finish by 1 June 2016 at the latest.
The inclusion for the first time by ISAF of Continental Qualification Events in the Qualification Pathway is an opportunity to develop sailing around the world and reflect the IOC Qualification System Principles. Key requirements of these Principles are to ensure the participation of the best athletes and ensure universality through continental representation.
Click here to view the nations qualified following the Santander 2014 ISAF Worlds.
Click here to view the Rio 2016 Qualification System.
About The International Sailing Federation
The International Sailing Federation (ISAF) is the world governing body for the sport of sailing.
ISAF is made up of 139 Member National Authorities (MNAs), who are its principal members, and responsible for the decision making process that governs the sailing world.
There are currently more than 100 ISAF Classes, ranging from the small dinghy classes for young people up to 60 foot ocean racers.
2015 Nacra 17 Worlds Media Information