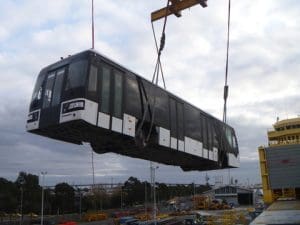 'Octo-bus' – AAL beats out RoRo carriers to transport cargo of 8 newly-built airport shuttle buses on its popular Australia East Coast Liner Service
AAL, one of the world's leading multipurpose shipping operators, has successfully transported a fleet of eight newly-built airport shuttle buses from Xingang, China to Melbourne, Australia for its customer, JC Trans Shanghai – having provided a more efficient solution than traditional ro-ro carriers. The consignment of eight buses was moved in two separate shipments on the A-class multi-purpose vessel AAL Hong Kong, which operates on AAL's Australia East Coast and New Zealand (AUEC) liner service, connecting key ports across the Australasia region.
This valuable cargo comprised of units, each measuring almost 14m in length, 3m in height and 3m in width which were loaded and discharged using the vessel's side-mounted, heavy lift cranes. The buses, manufactured in Beijing and transported for JC Trans Shanghai (part of the global logistics provider, JC Trans Group), were safely discharged in Melbourne and will be used on busy airport shuttle routes.
Frank Mueller, General Manager of AAL's Liner Services Division, commented: "We compete head-to-head with RoRo carriers for this type of cargo and ultimately
proposed and delivered a more efficient and safe lo-lo (load-on/load-off) solution for the customer. Our multipurpose fleet offers extreme flexibility and our Liner Services provide regular access to hub and remote ports across Asia, Australia and New Zealand – so we are very competitive for all types of breakbulk, project and heavy lift cargo."
Vicky Wei, Breakbulk Department Supervisor, JC Global, added: "We very much appreciated AAL's commitment to ensuring this project was executed perfectly. Compared to traditional RORO carriers and other multipurpose options available, AAL's vessel and solution saved us significant time and, as our cargo was loaded and stowed inside a huge dry cargo hold, it was delivered in excellent condition."
AAL operates a regular and dedicated Liner Services division that connects Asia with Australia / New Zealand and West Coast North America. The AUEC service connecting Asia to Australia and New Zealand deploys AAL's A-Class vessels (31, 000 dwt) each with a combined lifting capacity of 700mt. The service offers customers monthly sailings, calling at a number of base ports in China, Korea, Taiwan, East Coast Australia and New Zealand – with other ports en route offered on an inducement basis. The company also provides a tramp and projects service.
"Jo"