The Aquece Rio – International Sailing Regatta will act as a dress rehearsal for the Olympic Games with the world's leading sailors, many of whom will be on the Olympic startline, fine tuning their preparations in Rio de Janeiro, Brazil.
From 15-22 August 339 sailors from 52 nations, racing in the ten Olympic sailing events will put themselves to the test across six race courses, three inside and three outside of Guanabara Bay.
Compared to the test events for other Olympic sports, sailing is unique. A large majority of those competing from 15-22 August will go on to Rio 2016 and in many cases the medallists at the test event will realise their dreams in a year's time with an Olympic medal around their neck.
In the build up to London 2012, 18 medallists in the test event went on to take an Olympic honour, a statistic that could well be repeated and even bettered at Rio 2016.
With a wide array of exceptional sailing talent the stakes are high. A strong result at the test event can build up confidence and leave athletes with a can do attitude.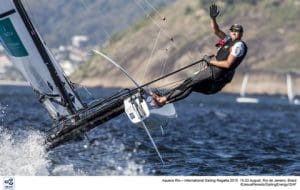 The 470 events will be spearheaded by Olympic gold medallists Jo Aleh and Polly Powrie (NZL) and Mat Belcher (AUS) sailing with Will Ryan.
Both the Kiwis and Australians took gold at the 2014 test event and are back in the mix, aiming for another good performance on the journey to retain their Olympic titles.
"It's getting busier and busier out on the water, there are new boats and teams out every day… It's rather exciting, " commented Aleh.
"At the moment everyone is just training, working on their boats and getting time on the water. But next week when we all start moving to the Marina da Gloria – the Olympic Harbour – things will start to ratchet up a little."
A week on from Aleh's comments and Marina da Gloria is a hive of activity. The sailors are in, International Race Officials are arriving and work continues on the marina to ensure it is up to scratch for the Olympic Games.
Whilst the focus is on this week, Belcher, holder of the last five 470 World titles, knows the athletes have their eyes on the ultimate prize within the sport, an Olympic medal, "For all of us, everything, every day we train, every minute and hour, weeks, months, years, it's all about the Games.
"The regattas we do give us the opportunity to test things where we need to test, to benchmark ourselves, so that throughout the cycle we know where we are at and what we need to work on. And hopefully it will all come together when we need it – at the Olympics, " said Belcher.
The Men's and Women's 470 fleets feature 22 and 19 teams respectively. London 2012 silver medallist Luke Patience (GBR), sailing with Elliot Willis will be amongst the frontrunners in the men's fleet alongside the links of Sime Fantela and Igor Marenic (CRO), Stu McNay and Dave Hughes (USA) and Olympic bronze medallists Lucas Calabrese and Juan de la Fuente (ARG).
2014 World, European and World Cup champions Lara Vadlau and Jolanta Ogar (AUT), London 2012 silver medallists Hannah Mills and Saskia Clark (GBR) and Annie Haeger and Briana Provancha (USA) will be in the mix in the women's fleet.
Six race courses will be tested throughout the week, three outside of Guanabara Bay and three inside. Courses outside include Pai, Copacabana and Niteroi whilst the inside courses are Pão de Açúcar, Ponte and Escola Naval. All will be tested throughout the week by the ten Olympic sailing events. Click here to view the racing areas.
The Laser fleet is the largest in Rio with 39 sailors registered to sail. The list is packed full of exceptional sailors that have the capabilities of hitting the right note on any given day. Leading the charge will be Robert Scheidt (BRA), Tom Burton (AUS), Tonci Stipanovic (CRO), Nick Thompson (GBR), Pavlos Kontides (CYP), Andy Maloney (NZL) and Charlie Buckingham (USA).
In the Laser Radial, Anne-Marie Rindom (DEN) will be aiming for top spot again after her success 12 months ago whilst Olympic silver and bronze medallists Marit Bouwmeester (NED) and Evi Van Acker (BEL) will also pose a threat.
In the Nacra 17, Billy Besson and Marie Riou (FRA) will be the pair to beat. The vibrant French duo has won two Nacra 17 world titles together, a string of ISAF Sailing World Cup regattas as well as Aquece Rio 2014 gold. They will be hunting for gold again.
Further strong contenders include Jason Waterhouse and Lisa Darmanin (AUS), Thomas Zajac and Tanja Frank (AUT), Iker Martinez and Marina Lopez (ESP), Vittorio Bissaro and Silvia Sicouri (ITA), Mandy Mulder and Coen de Koning (NED) as well as Matias Buhler and Nathalie Brugger (SUI).
Racing is scheduled to commence at 13:00 on Saturday 15 August with racing concluding on Saturday 22 August.
Click here for the full entry list.
Results
Results from Aquece Rio will be available here – http://www.sailing.org/olympics/rio2016/results/index.php
Links
ISAF Olympic Website – http://www.sailing.org/olympics/rio2016/home.php
Aquece Rio Website – http://www.aquecerio.com/en/
Sailing Instructions – http://www.sailing.org/tools/documents/AqueceRio2015SIFINAL-%5B19017%5D.pdf
Photography
Rights free imagery is available to download via – http://worldsailing.photoshelter.com/gallery-collection/RIO-2015-Test-Event/C0000EXVwHxIyBA0
For the password and specific requests please contact marketing@isaf.com
Video
The International Sailing Federation has appointed a Brazilian crew for the duration of the Aquece Rio – International Sailing Regatta 2015, the Olympic Test Event. Footage is available to media outlets, ISAF Member National Authorities and ISAF Class Associations via a rate card. For specific requests please contact marketing@isaf.com
Rio 2016 Olympic Sailing Competition
The Rio 2016 Olympic Sailing Competition will take place at the Marina da Glória, Rio de Janeiro, Brazil and will feature 380 athletes competing across ten events.
Racing is scheduled to take place from 8-18 August 2016 and the competition format for all events is fleet racing.
About The International Sailing Federation
The International Sailing Federation (ISAF) is the world governing body for the sport of sailing.
ISAF is made up of 139 Member National Authorities (MNAs), who are its principal members, and responsible for the decision making process that governs the sailing world.
There are currently more than 100 ISAF Classes, ranging from the small dinghy classes for young people up to 60 foot ocean racers.