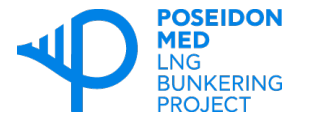 We are pleased to announce that following information received,  Poseidon Med Stakeholders Consultation Event will be held on Wednesday 16 September at the Columbia Plaza Venue Centre in Limassol.
The conference aims to raise awareness on the Poseidon Med Project among the local Shipping and Energy Stakeholders as well as the wide public, providing an overview of the current status and progress to date of the project as well as the way ahead.
Viewers can  find herebelow the provisional agenda of the event.
POSEIDON-MED is the first Cross European Border project in the Mediterranean and Adriatic Sea with the main scope of introducing LNG as the main fuel for the shipping industry and proposing a sufficient infrastructure network of bunkering value chain.
POSEIDON MED focuses in the eastern Mediterranean region/sea with Cyprus as Leader Member State and four more Member States (Greece, Italy, Croatia, and Slovenia) involved. Its ultimate objective is to prepare in detail a global plan of infrastructure development in this area so that LNG can be widely adopted as fuel for shipping operation but also servicing additional needs of the mainland operations, the European Energy Security strategy and the Diversification of NG sources.
POSEIDON-MED is co-financed 50% by EU, TEN-T / Motorways of the Sea. The Project is coordinated by QENERGY and comprises of 18 partners among which Lloyd's Register, OceanFinance, Naval Architecture Progress, Environmental protection Engineering,   all major short sea Shipping companies in the region and core ports such as Limassol, Piraeus and the  North Adriatic Ports.
For further information please visit the Poseidon Med website: www.poseidonmed.eu
You can also follow our Twitter account: @Poseidon_Med
Poseidon Med Stakeholders Consultation Event_Limassol__16 Sept 2015_Agenda