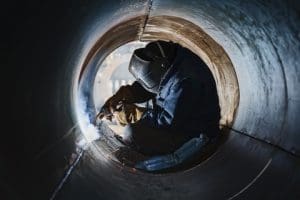 Damen Shiprepair & Conversion reinforces its commitment to global customer service levels by acquiring D. van de Wetering
With the aim of further improving the quality of the service towards its customers, Damen Shiprepair & Conversion (DSC) has taken over Dutch repair yard D. van de Wetering in Rotterdam, one of the oldest ship repair companies in North West Europe having been operational  since 1880.
D. van de Wetering specialises in all types of above-the-waterline repairs to sea-going vessels, and has extensive experience in delivering 24/7 harbour and voyage repairs across Europe. This takeover will allow Damen to further strengthen the depth of its service provision through the integration of these harbour & voyage activities into its existing network of Damen Shiprepair & Conversion locations. These currently stretch across North-Western Europe into the Middle East and as far as Singapore and South Africa.
The integration of D. van de Wetering into the Damen Shiprepair & Conversion network will enable Damen customers to benefit from the  availability of additional experienced and flexible specialists, around the clock, whether at DSC locations or in harbours across the globe. This further strengthens Damen's commitment to making guaranteed availability and continuity for customers its number one priority.
The acquisition will also reinforce the capabilities of the Damen Shipyards Group's global service hub network. Eleven hubs across five continents are already in operation or in the process of being established, providing support and a wide range of repair and other services to operators far from the nearest Damen yard. Working with local yards and suppliers, they ensure that Damen expertise can be accessed quickly and conveniently wherever a vessel may be in the world.
Continuity guaranteed
As of Monday, 5 October, the D. van de Wetering yard at the Bunschotenweg in the Eemhaven in Rotterdam will cease operations, and all activities will be transferred in the short distance to Damen Shiprepair Van Brink, in Pernis. Customers can continue to use existing contact details for the yard, which will be transferred  directly to DSC.
Commenting on the deal, DSC Group Director Durk-Jan Nederlof stated: "It has always been our strategy to be able to repair ships anytime anywhere in the world and even work on ships while in transit.
This acquisition accelerates our ambitions in this field."
Jaap de Lange, Director of Damen Services, says: "The experienced engineers of D. van de Wetering are an useful add to our existing pool of around 70 worldwide operating field service engineers. They can strengthen our service support in the field of warranty, technical assistance, maintenance, expeditionary repairs and refits."
Damen Shipyards Group
Damen Shipyards Group operates 32 ship- and repair yards, employing 8.000 people worldwide. Damen has delivered more than 5.000 vessels in more than 100 countries and delivers approx. 180 vessels annually to customers worldwide. Based on its unique, standardised ship-design concept Damen is able to guarantee consistent quality.
Damen's focus on standardisation, modular construction and keeping vessels in stock leads to short delivery times, low 'total cost of ownership', high resale value and reliable performance. Furthermore, Damen vessels are based on thorough R&D and proven technology.
Damen offers a wide range of products, including: tugs, workboats, naval and patrol vessels, high speed craft, cargo vessels, dredgers, vessels for the offshore industry, ferries, pontoons and super yachts.
For nearly all vessel types Damen offers a broad range of Services, such as maintenance, spare parts delivery, training and transfer of (shipbuilding) know-how. To complete, Damen offers a variety of marine components, especially nozzles, (flap-type) rudders, steering gear, anchors, anchor chains and steel works.
Damen Shiprepair & Conversion
In addition to ship design and shipbuilding, Damen Shiprepair & Conversion offers a network of 15 repair & conversion yards worldwide, with dry docks ranging up to 420×80 metres. Conversion projects range from adapting vessels to today's requirements and regulations to the complete conversion of large offshore structures. DS&C handles 1, 500 repair and maintenance jobs annually.