Abu Dhabi sets the stage for a fascinating conclusion to the 2015 ISAF Sailing World Cup this week, with the sport's top athletes heading into four days of intense race competition at the end of a year-round journey towards gold medal glory.
In six of the eight classes which will see action in the UAE capital, defending champions will be aiming to repeat last year's World Cup final success in Abu Dhabi in order to carry another world title towards next year's Olympic Games in Rio de Janeiro.
"There is so much quality here and  such a great deal at stake, and we look forward to some very exciting racing, " said H.E. Ahmed Thane Al Romaithi, Chairman, Abu Dhabi Sailing and Yacht Club, hosts of the regatta and of today's official press conference, and Vice-President, UAE Sailing & Rowing Federation.
The 2015 ISAF Sailing World Cup Final, which climaxes the prestigious annual series of Olympic sailing for elite and professional sailors, is staged with the additional support of Abu Dhabi Sports Council and Abu Dhabi Tourism & Culture Authority.
Following the official opening ceremony which takes place at 18:30 on Wednesday 28 October at the Abu Dhabi Theatre, Abu Dhabi Sailing and Yacht Club will the next morning launch four days of competition in eight of the ten classes chosen for the 2016 Olympics, as well as kitesurfing.
Among those strongly fancied to strike gold for a second year in Abu Dhabi are the formidable Australian combination of Mat Belcher, the 2014 World Cup gold medallist and 2012 Olympic gold medallist, and Will Ryan, who helped him capture his sixth successive 470 title at the recently concluded World Championships.
No-one enjoyed their gold medal-winning visit to Abu Dhabi more last year than Belgium's Evi Van Acker who returns looking for another Laser Radial triumph.
Meanwhile, Austria's Lara Vadlau and Jolanta Ogar are back to defend their title in the women's 470 class after being pushed all the way last year, while Britain's Bryony Shaw seeks a second successive gold medal in the women's RS:X class.
Britain's Oliver Bridge basically blew away the competition in Abu Dhabi last year to clinch the kiteboard title but can expect a tough title defence over a short track format.
Abu Dhabi Sailing and Yacht Club is staging the final regatta in a series which started in Melbourne, Australia last December before continuing with other qualifying events in Miami, USA, Hyères, France, Weymouth and Portland, Great Britain and finally Qingdao, China last month.
All the race action takes place in the waters around Lulu Island off the Abu Dhabi corniche, presenting a great spectacle for spectators, and a worldwide ISAF television audience of millions.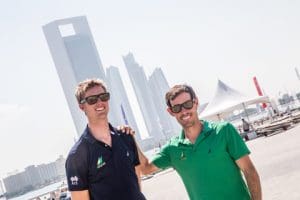 Sailing enthusiasts are also invited to visit the host club on each day of competition, and on a first come, first served basis, spectator boats will carry enthusiasts out on to the water to present a close-up view of the battle for World Cup success.
More event details can be found at http://www.sailing.org/worldcup/home.php
About The International Sailing Federation
The International Sailing Federation (ISAF) is the world governing body for the sport of sailing.ISAF is made up of 139 Member National Authorities (MNAs), who are its principal members, and responsible for the decision making process that governs the sailing world.There are currently more than 100 ISAF Classes, ranging from the small dinghy classes for young people up to 60 foot ocean racers.