Built in Sharjah – built for Sharjah 
Delivery of Damen ASD 2411 to Sharjah Ports Authority  
Sharjah Ports Authority, has taken delivery of a Damen ASD Tug 2411, named Al Luolo' Aya. His Excellency Sheikh Khaled bin Abdullah bin Sultan Al Qasimi, Chairman of the Department of Seaports and Customs at the Hamriyah Free Zone Authority and Sharjah Airport International Free Zone presided over the ceremony, which was held at Damen Shipyards Sharjah. Also present were Mahamed Meer Abdelrehman Al-Sarrah, Director of Seaports and Customs, Saud Salim Al Mazrouei, Director of Hamriyah Free Zone Authority and Sharjah Airport International Free Zone, Lars Seistrup, Managing Director of Damen Shipyards Sharjah. The ASD 2411 Tug is fully 'built in Sharjah for Sharjah'.
The Sharjah Port and Customs Authority is a long-term customer of Damen and already has eight Damen Stan Tugs and a recently delivered Damen pilot boat in its fleet. The new Damen ASD 2411 is the port's first ASD tug.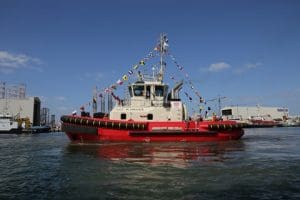 Following the ceremony, Sheikh Khaled bin Abdullah bin Sultan Al Qasimi toured and inspected the Al Luolo' Aya. Having seen the vessel he said: "I am impressed by the quality and outfitting of all the A-brand materials on board."
The tug was built at Damen Shipyards Sharjah, which is located in the Hamriyah Free Zone and is one of three ports owned and operated by Sharjah Ports Authority. At the same facility, Damen is also constructing a series of ASD Tugs 2411 and 2810, both on speculation and on contract.
With a 68.5 tonne bollard pull ahead, the Damen ASD Tug 2411 will be deployed at Port Khor Fakkan in the United Arab Emirates. The vessel is fully equipped with FiFi 1 and water spraying notation.
Khor Fakkan is one of the leading container transhipment ports. It is strategically located on Sharjah's Indian Ocean coast, just outside the Straits of Hormuz and close to the main east-west shipping routes. Khor Fakkan's location makes it an obvious choice for shipping lines with large transhipment volumes and which also require easy access to the UAE hinterland. Recently, a major expansion of the port has been completed and the new tug will allow the port to handle even larger container vessels.
Pascal Slingerland, Damen Sales Manager Middle East, commented: "The ASD Tugs are highly manoeuverable and powerful and ideally suited to operations in Khor Fakkan. We are extremely proud  to have built this vessel 'in Sharjah and for Sharjah'  according to the world's highest shipbuilding standards. We have built some 70 Damen ASD Tugs 2411 over the years and a large number of these vessels are operating very successfully here in the UAE."
With hundreds of Damen vessels operating in this region, it is a huge advantage that the Damen Shipyards Group has a large shipbuilding and repair facility in the United Arab Emirates. With onsite warranty and service engineers and modern newbuild and drydock facilities, Damen can provide the best service throughout the lifetime of the vessel.
In addition, ASD training is being provided, including 'on the job' instruction by an experienced ASD  captain. "Our services could continue with a broad range of options for the deployment phase; from a computerised Maintenance Management System and technical assistance wherever needed, to training programmes and Customer Service Agreements, " concluded Mr Slingerland.
Damen Shipyards Group
Damen Shipyards Group operates 32 shipbuilding and repair yards, employing 9, 000 people worldwide. Damen has delivered more than 5, 000 vessels in more than 100 countries and delivers some 160 vessels annually to customers worldwide. Based on its unique, standardised ship-design concept Damen is able to guarantee consistent quality.
Damen's focus on standardisation, modular construction and keeping vessels in stock leads to short delivery times, low 'total cost of ownership', high resale values and reliable performance. Furthermore, Damen vessels are based on thorough R&D and proven technology.
Damen offers a wide range of products, including tugs, workboats, naval and patrol vessels, high speed craft, cargo vessels, dredgers, vessels for the offshore industry, ferries, pontoons and superyachts.
For nearly all vessel types Damen offers a broad range of services, including maintenance, spare parts delivery, training and the transfer of (shipbuilding) know-how. Damen also offers a variety of marine components, such as nozzles, rudders, anchors, anchor chains and steel works.
In addition to ship design and shipbuilding, Damen Shiprepair & Conversion has a worldwide network of 15 repair and conversion yards with dry docks ranging up to 420 x 80 metres. Conversion projects range from adapting vessels to today's requirements and regulations to the complete conversion of large offshore structures. DSC completes around 1, 500 repair and maintenance jobs annually.