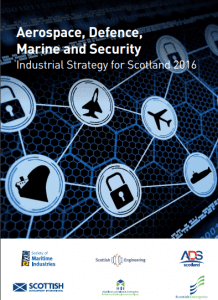 Scotland's industry leaders in the aerospace, defence, marine and security (ADMS) sectors have set out an ambitious growth plan for the next five years to develop Scotland's supply chain and retain a greater share of revenue north of the border.
A new industry-led strategy has been launched today (Monday, 21 March) by Scottish Enterprise setting out the key goals and actions required to achieve real-term growth for the ADMS sector of between 6 and 10 per cent by 2020.
Achieving sector growth on this scale could deliver significant economic benefits, including up to £500m in additional revenue per year, up to 3, 000 new or replacement jobs and substantial CO2 reductions from disruptive new technologies.
The new Industrial Strategy for Scotland 2016 recognises the long-term value of attracting and retaining large companies to the sector in Scotland and identifies the growth of Scotland's supply chain as critical to the long term growth of the sector. The significance of the supply chain is based on analysis by Scottish Enterprise suggesting there is huge potential within Scotland's Original Equipment Manufacturers (OEMs) and large companies to retain revenues within Scotland through focused activity and investment.
By setting out its vision for growing the ADMS sector, the plan also aims to support Scottish Enterprise's goal of increasing Scotland's manufacturing output, while aligning with Scotland's economic strategy for increased internationalisation, innovation, investment and inclusive growth.
To achieve the plan, the Industry Leadership Group (ILG) has set out six clear calls to action for industry:
Increase awareness of large ADMS companies operating in Scotland and the opportunities for SMEs to supply those companies
Develop a more competitive supply base amongst Scotland's high potential SMEs
Encourage more young people to choose STEM careers
Sustain growth in Scotland's target export markets
Reduce the time to market for technology in the ADMS supply chain
Increase the awareness of funding and support amongst SMEs
Mick O'Connor, Chair, ADMS Industry Leadership Group said: "Scotland's aerospace, defence, marine and security sectors are in good health, but we know that there are opportunities for further growth. By bringing together senior leaders from across these industries, we have produced a strategy which sets out a series of practical solutions that we believe can make a difference to our industry both in Scotland and internationally.
"This hands-on approach reflects the ambition of the Industry Leadership Group to deliver tangible growth for businesses throughout the country and build upon Scotland's proud history of engineering excellence and versatility. By inviting small and large companies to work closer together with industry bodies such as ADS Scotland, the Society of Maritime Industries and Scottish Engineering, I'm confident we can grow Scotland's supply chain and deliver on these ambitious goals."
Linda Hanna, Managing Director of Strategy and Sectors at Scottish Enterprise said: "Scotland has much to celebrate in the Aerospace, Defence, Marine & Security sectors, and this commitment by the Industry Leadership Group to support continued growth underlines the quality of companies already operating here.
"This ambitious strategy will help us increase Scotland's manufacturing output while raising the profile of our world-class companies. It will also showcase Scotland as a progressive, innovative and attractive place to do business, while opening up new markets and opportunities such as Cyber Security and Space."
Business Minister Fergus Ewing added: "Many of our most prominent companies in Scotland's Aerospace, Defence, Marine & Security (ADMS) sector operate at the very forefront of their industry. They design and manufacture world-class products and can truly claim leadership amid a field defined by fierce global competition. Developed by industry leaders, this strategy sets out a clear, pragmatic growth plan that recognises the long-term value of attracting and retaining large companies in Scotland and the beneficial effect of this on the supply chain. Its practical approach reflects Scotland's economic strategy and our increased focus on internationalisation, innovation, investment and inclusive growth. Continued success requires strong leadership, substantial long-term investment and a skilled workforce and this strategy provides a shared vision on how to achieve this further growth."
The next step for the strategy will see the ILG lead the coordination of combined efforts for driving delivery. Working closely with the sector trade organisation ADS Scotland, key parts of this work will involve maximising indigenous growth throughout the Scottish supply chain, developing Scotland's ADMS sectoral opportunities within the UK and exploiting global growth in the ADMS sector. In Scotland, the UK and globally, the Scottish ADMS sector has enormous potential and the ILG, working with Scottish Enterprise, ADS Scotland and others, is now better placed to exploit this potential.
The most recent figures show that Scotland's ADMS sector, comprising 825 companies, contributes revenues of more than £5.5bn per annum, employing over 38, 000 highly skilled people, and adding £1.7bn in Gross Value Added (GVA).
http://www.scottish-enterprise.com/knowledge-hub/articles/publication/adms-strategy-2016
Case study:
1.      Spirit AeroSystems
Spirit AeroSystems is one of the world's largest designers and manufacturers of commercial and military aircraft and is at the forefront of automation in the international aerospace industry. Part of a global business with bases in the United States, France and Malaysia, the company delivers contracts for major blue chip companies including Boeing and Airbus, and employs around 1, 000 people in its Scottish manufacturing plant at Prestwick.
Faced with record orders from commercial airlines and increasing competition from growing markets in Asia and elsewhere, Spirit AeroSystems recognised that it needed to adapt to compete.
Spirit introduced an innovative automation process for the highly-complex assembly of the Airbus A350 XWB commercial airliner at Prestwick.
The system uses rotating tooling fixtures, a vision system which can precisely locate features such as holes and fasteners and plot a tool path, and robotic automated drilling to assemble the carbon fibre and aluminium ribbed panels parts that make up the inner, mid and outer sections of the aircraft.
This pioneering use of automation and advanced drilling equipment has driven up product quality and efficiency and driven down manufacturing costs, leaving the company able to meet the increase in demand and ultimately compete on the global stage. In 2015, Spirit was awarded Scottish Engineering's main award in recognition of their contribution to shaping the future of commercial aircraft through research, development and design.
Scottish Enterprise
Scottish Enterprise is Scotland's main economic development agency and aims to deliver a significant, lasting effect on the Scottish economy. Our role is to help identify and exploit the best opportunities for economic growth. We support ambitious Scottish companies to compete within the global marketplace and help build Scotland's globally competitive sectors. We also work with a range of partners in the public and private sectors to attract new investment to Scotland and to help create a world-class business environment.