In the previous decades we experienced the globalization of trade and capital which changed completely the world's economy.  In the last 5 years we experience the phenomenon of globalization of people which today appears with increasing trends. We get to hear more often the words "Global Citizen". HNWI after having divided their wealth globally for security purposes they now seek second Citizenships for security and protection for their families. By Panayiotis Michaelides, Marketing Manager, Leptos Estates
World Population Clock 2016: 7.4 billion people
World population Clock prediction 2050: 9.7 billion people (almost 30% increase) and easy to understand the needs and challenges generated out world's population explosion.
Our biggest challenge: To achieve a sustainable world for everybody
Nelson Mandela 2000: "In the long run, nobody benefits from the existence of islands of riches in a sea of poverty. We also need a globalization of the responsibility. This is our greatest challenge in the century we have just entered."
Allow me to take this opportunity and present you briefly our Group of companies. Leptos Estates is the most dynamic, innovative and international multi award winning Property Developer in Cyprus and Greece. We have successfully completed more than 85 Cyprus/EU Citizenship investments and expand our presence in the international market place in this direction. Our current success ratio is remarkably by 100%.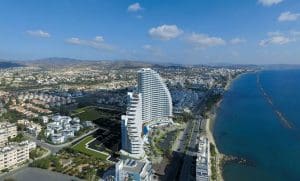 We are 55 years on the Mediterranean Property Market with great history and success, with more than 25.000 happy clients in Cyprus and Greece, Leptos is the name people can trust. We have been the leading force in the design, construction, and management of numerous superior residential developments and major tourist/leisure projects in Cyprus and recently in the Greek islands. With over 350 diverse property developments in key prime locations, Leptos Estates can effectively fulfil your client's needs. We offer luxury villas, stylish townhouses, and spacious apartments using traditional and contemporary designs.
We offer very competitive commission/referral fee rates and actively encourage our agents and associates to visit our projects and sites providing full on-site training and support. We also offer our visiting agents/associates the chance to stay for 2-3 days in one of our luxurious hotels in both Greece and Cyprus, with the compliments of Leptos Estates. Kindly take a few minutes of your valuable time to study the legal framework services and presentations (attached) where you will find some vital information and impressive company projects. Also please visit our company's website www.leptosestates.com for further and more detailed information of our properties.
Our specialized Immigration Legal department shall be available to elaborate further and answer any questions you may have. In case you need further help or clarification please do not hesitate to contact me.
At the Leptos Group, we believe that the value of an enterprise is not measured by the returns of the day, but by the legacy one leaves behind.