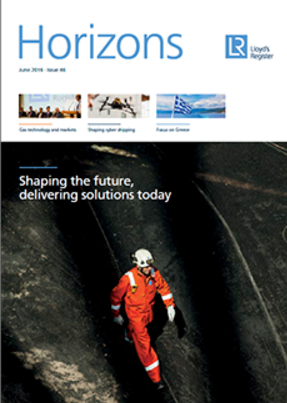 Shaping the future, delivering solutions today
The latest Horizons magazine from LR looks at today's realities while examining what the future may bring: balancing today's requirements with the challenges and ambitions of new technology. Cyber shipping, gas solutions – including a round-up of our recent successful Greek gas event, and drone survey capabilities.
Of course, with Posidonia starting next week, we focus on our Hellenic strength. LR has an ever-stronger team and client service capability in Piraeus and our Greek employees around the world provide client solutions and support every day of the year.
Read about all this and other news and feature stories here – www.lr.org/en/news/news/June-2016-issue-of-Horizons-out-now.aspx
Lloyd's Register (LR) is a global engineering, technical and business services organisation wholly owned by the Lloyd's Register Foundation, a UK charity dedicated to research and education in science and engineering. Founded in 1760 as a marine classification society, LR now operates across many industry sectors, with some 9, 000 employees in 78 countries.
LR has a long-standing reputation for integrity, impartiality and technical excellence. Its compliance, risk and technical consultancy services give clients confidence that their assets and businesses are safe, sustainable and dependable. Through our global technology centres and research network, LR is at the forefront of understanding the application of new science and technology to future-proof our clients' businesses.