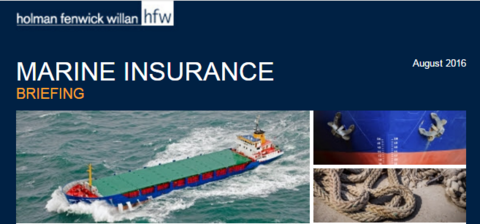 The fraudulent claims rule is well established in English law. It operates to bar a policyholder's claim in its entirety when that claim is fabricated or fraudulently exaggerated. The leading case is generally regarded as Britton v Royal insurance Co in which Willes J suggested that the rule was a manifestation of the duty of utmost good faith.

The extension of the fraudulent claims rule to include lies told in the claims process – so called "fraudulent devices" – is at common law a more recent development.
Our shipping lawyers provide a comprehensive service to the global maritime business community. We have over 200 lawyers and 13 Master Mariners worldwide, specialising in maritime law, reflecting our long involvement in this field.
» Read more

Our insurance & reinsurance practice is recognised internationally as an industry leader. Through our integrated global network of offices, we offer a comprehensive range of dispute resolution, transactional and regulatory legal services to the insurance sector…
» Read more

Our firm runs a number of events across all sectors worldwide.

For more information about our events, please click here or contactevents@hfw.com
© 2016 Holman Fenwick Willan LLP. All rights reserved

Whilst every care has been taken to ensure the accuracy of this information at the time of publication, the information is intended as guidance only. It should not be considered as legal advice.

Holman Fenwick Willan LLP is the Data Controller for any data that it holds about you. To correct your personal details or change your mailing preferences please use the links provided or contact Craig Martin on +44 (0)20 7264 8109 or atcraig.martin@hfw.com.