Day two of the Olympic Sailing Competition produced lighter winds more expected at this time of year in Rio, and the south-easterly breezes were mostly around five to seven knots with only occasional moments in double figures. This made for a challenging opening day for the Finn sailors competing in the Heavyweight Men's One Person Dinghy, who raced two heats on the notoriously fickle Pão de Açucar (Sugarloaf Mountain) race course.
Men's Windsurfer – RS:X
Nick Dempsey (GBR) continues to lead the Men's Windsurfer competition after another good day on the water, marred only by a 14th place in Race 6. Currently the London 2012 silver medallist leads by a point from the reigning Olympic Champion, Dorian van Rijsselberghe (NED), who has the added benefit of a fifth place as his discard, to Dempsey's 14th. That could be a critical difference later on in the regatta.
"Good day today, with a four and two firsts," said van Rijsselberghe. "I've been lucky! Sometimes lucky and sometimes good. Everything is going well, we have done six races so we are not at the halfway point yet. But I'm feeling good, I'm happy about today and just need to try to keep going like this." With the wind dropping throughout the afternoon, it was physical day of pumping the sail to keep the board moving. "The last race was almost unraceable. But it is what it is."
The reigning World Champion Piotr Myszka (POL) moves up third place ahead of Byron Kokkalanis (GRE).
Women's Windsurfer – RS:X
It was Flavia Tartaglini's (ITA) turn to rip up the race course in the Women's Windsurfer on day two of competition, the Italian running away with a 1,1,4 scoreline and deposing yesterday's winner, Charline Picon (FRA), from the top of the leaderboard. The French sailor still had a very respectable day in difficult conditions to sit just a point behind the leader.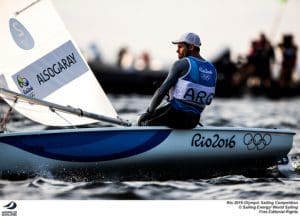 Tartaglini commented, "I was not expecting these good results, to tell you the truth. I was feeling ready, but in others regattas I have also felt ready and then things have not gone so well. I'm trying to go day by day and race by race. We still have more than the half of the races to finish the Olympics, but at least this evening I'm going back home very happy."
As to her growing rivalry with the French sailor, Tartaglini observed, "Charline was leading yesterday and today she was behind me in all three races. But that means just that today I have had a good day. She's one of the strong contenders, so maybe I'm also one of them. Today was my best day, I hope I will continue in this way. I have the speed and I have the training, and we are all there in the fight."
Stefania Elfutina (RUS) sits just five points back in third overall, and is having the regatta of her young life. "I'm young, yes, I'm 19 years old," said the Russian. "But I think that's not a problem to be able to fight for the medals together with the most experienced women. Nobody expects anything from me, so I just do what I love, and sometimes I can do it well and be in the fight."
Maybe the challenging nature of the Rio race courses are playing to Elfutina's strengths. "Today the racing conditions were very complicated, with the currents and the wind, but it was hard for everybody. In the last race the wind dropped and we had to pump a lot. I feel tired, that's for sure. We had three hard races today, so it's nice to have a rest daytomorrow to charge some new energy."
Women's One Person Dinghy – Laser Radial
Last night Lijia Xu (CHN) was disqualified from Race 2 after a successful protest by Paige Railey (USA). But the reigning Olympic Champion bounced back even stronger on day two of competition, scoring 3,1 to retake the overall lead. The Chinese sailor is currently able to discard her disqualification from her scores, but it still means she has to be careful for the rest of the competition. "I was very sad last night," said Xu. "But when I saw the TV footage I accepted that I could have taken my penalty turn sooner. Today though I am very happy with how things have gone. With injuries I have not spent as much time sailing as I would have liked, so now I am so happy to be back together, me and my boat."
Annalise Murphy (IRL) was by far the strongest sailor in strong winds four years ago at London 2012, but her Achilles' heel was her light airs performance. Not any more if the Irish sailor's results are anything to go by. Scores of 4,7 combined with her victory in the opening race yesterday put Murphy in second overall, just five points behind Xu. Even more consistent than the two sailors ahead of her, however, is Anne-Marie Rindom (DEN), who is the only sailor to have kept all of her scores inside the top 10. That level of consistency could play into the Danish sailor's hands further down the track. Rindom sits just a point behind Murphy and just a point in front of Marit Bouwmeester (NED), the London 2012 silver medallist who is having a quiet but steady regatta.
Men's One Person Dinghy – Laser
Victory for Julio Alsogaray (ARG) in Race 4 has lifted the Argentinean to the top of the leaderboard in the Laser, displacing Tonci Stipanovic (CRO) who now sits in second overall. Sam Meech (NZL) had a very solid day with scores of 5,6 to rise to third overall, just a point behind the Croatian. Best performer of Day 2, however, was Juan Ignacio Maegli (GUA), whose scores of 3,7 lift the Guatemalan to sixth overall.
Robert Scheidt (BRA) is giving his Brazilian fans something to worry about with inconsistent scores of 27,4 to put the five-time Olympic medallist in eighth overall, yet the 43-year-old veteran seems unperturbed and continues to believe he can get on to the podium. With just four of the ten races completed before the Medal Race, there's little reason to doubt his optimism. "The first day's racing was much harder today," said Scheidt. "Today was more straightforward. Still tricky, but I think what we have seen over the first two days is very typical for Rio."
Heavyweight Men's One Person Dinghy – Finn
Vasilij Zbogar overcame the fluky conditions on the Pão de Açucar (Sugar Loaf Mountain) race course to lead the Finn fleet after their opening day of competition. The double Olympic medallist scored 3,1 to lead Alican Kaynar (TUR) by 3 points. "I was fast today," said Zbogar. "Those were my conditions and even if it was unpredictable, my speed was helping me get to the right place. I need to do well in these conditions because the next two days are going to be stronger winds. I am 10kg too light and ten years too old," smiled the 41-year-old.
Few would have expected the Turkish sailor to be doing so well amongst such elite company, yet Kaynar is closely followed by another surprise in thirrd place overall, Facundo Olezza Bazan (ARG) who won the opening race and followed up with a ninth in the next. The Argentinean might have been forgiven for celebrating a victory in his first ever Olympic race, but not for the 21-year-old. "As soon as I crossed the finish, there was no celebration, only focus on the next race. And tonight there will be nothing special. I am just taking it day by day, race by race."
Jorge Zarif (BRA) also put down some good scores in the top six to sit in fourth overall, while four-time World Champion Giles Scott (GBR) struggled with the unpredictable light airs to find himself in tenth place after opening scores of 17,3