Domination was the word of the third day at the Rio 2016 Paralympic Sailing Competition as Great Britain's two-time Three Person Keelboat (Sonar) World Champions finally announced their arrival out on Guanabara Bay.
 
John Robertson, Hannah Stodel and Steve Thomas (GBR) have a wealth of experience behind them and are at their fourth Paralympic Games, but the first two days have not gone to plan for the 2015 world champions. Three bullets from three races was a tonic that was desperately needed to boost their chances, undoubtedly giving them performance of the day.
In a very close second for that accolade were defending Two Person Keelboat (SKUD18) Paralympic champions, Australia's Daniel Fitzgibbon and Liesl Tesch, who day by day eek out more of a lead on their rivals. In the One Person Keelboat (2.4 Norlin OD) it is still anyone's guess as the positions continue to trade as the discard comes in to play for all three fleets.
Three Person Keelboat – Sonar
Race day three. Three people in a boat. Three races. Three wins. If three isn't the lucky number for Great Britain's Robertson, Stodel and Thomas then it certainly should be after today.
Languishing in the bottom half of the fleet with a 11,9,14 on the scorecard it looked like the chase for a medal was over before it had begun for the British team. Whatever went on in the nightly debrief after day two, it definitely worked.
Not giving too much away, Thomas said, "Some of the stuff we talked about last night in the debrief we came out on the water today and implemented."
He continued, "The debrief from last night was mainly to believe. Which then allowed us to follow our plan. So believe and then execute with a positive mindset. We love the medium to strong breeze and we have been working on a few techniques with our new coach which are working."
If the team is to continue up the leaderboard and get a first Paralympic medal in their fourth attempt, they will need a lot more of that belief that worked so well, but they also need boats around them to falter. For Thomas though, their destiny is still in their own hand's, "All we have to do is worry about our own performance and not worry about the others. Having three firsts makes you feel positive and I'm not sure how that has helped us with the overall scores. The boat is going well now, and we can't influence others.
"For us it is about sticking to our processes and coming out strong and delivering on what we can do.  If we can then be in the medal zone we will be happy."
The Britons now sit in fifth place on 23 points.
Still leading the way are the Australian team of Colin Harrison, Russell Boaden and Jonathan Harris who posted two second places and a discarded seventh for the day to leave the team on 12 points. They are followed in second by 2016 world champions Alphonsus Doerr, Hugh Freund and Bradley Kendell (USA) who rocketed up from seventh place with a 2,3,3 to finish on 18 points.
New Zealand's Richard Dodson, Andrew May and Chris Sharp are third on 21 points with London 2012 bronze medallists, Norway's Aleksander Wang-Hansen, Marie Solberg and Per Eugen Kristiansen just one point back on 22.
Two Person Keelboat – SKUD18
Tasting success at the London 2012 Paralympic Games has obviously left Daniel Fitzgibbon and Liesl Tesch hungry for more as yet again they leave the Marina da Gloria at the end of a race day top of the leaderboard.
Fitzgibbon has previously summed up his partnership with Tesch saying that he was 'the still water to her rapids', and in true form he calmly and quietly described the day, "The key ingredient to being successful was just keeping it together, keeping your head on and just keeping on sailing. That's all we could do and just try and do as well as we could."
Three races and scoring a 1,2,1 has taken its toll on the Aussie, but it doesn't matter, there's a gold medal at stake, "The conditions were opposite from yesterday. A real test of endurance, crazy. But in sailing we get everything and that's why we love it." He continued, "I'm pretty tired after three races today and a long day yesterday. I'm keen to get home, recover and be back tomorrow."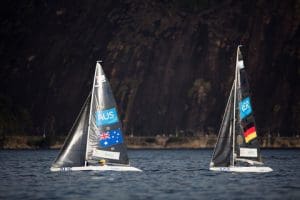 With Fitzgibbon and Tesch top on six points, leading the chase behind the flying Aussies is now Great Britain's Alexandra Rickham and Niki Birrell who started the day well, but ran in to trouble with their boat, "Unfortunately for race three today, during start sequence we were fine. Gearing up ready. But our gib sheet fell off or snapped or something and we had to retire. It was unfortunate because we had gained some momentum today."
The momentum they gained was from a bullet and second place which did eventually help move them up the leaderboard as everyone else around them also fell foul in the final race of the day.
The Britons are in second with 14 points with Canada's John McRoberts and Jackie Gay just behind on 16 points after they scored a 3,4 and a discarded 12th. Current world champions mirrored the Canadians scores with a 3,4,12, but due to an earlier round disqualification they have to carry the double digit score. They have 24 points in fourth.
One Person Keelboat – 2.4 Norlin OD
The one fleet that missed the memo about domination was the 2.4 Norlin OD. Touted as the widest open of the three fleets, the sailors are definitely living up to the tag as six sailors are separated by just six points.
Germany's Heiko Kroeger is one of, if not the most experienced sailor in the fleet, so who better to ask about the changing positions and ever changing leaderboard, "It's tough competition and this race course is very difficult to sail. The competition is very close in the 2.4. There is a lot of sailors who can sail fast and sometimes they might not have that experience in winning medals, but they are still very hard to beat. Although this is a small fleet, it is still a very hard competition."
Kroeger has a Paralympic gold medal and multiple world championship titles under his belt, and he is hoping this could give him the edge when push comes to shove and the competition nears its end, "Experience is important.  If you have to think about what you should do, you are already too late.  Things need to be automatic.  So if you have lots of experience your reaction is different and your tactical decision are different and you're able to decide faster. And hopefully the right decisions and this is the difference between experience or not."
Currently sitting top is the defending Paralympic champion from Great Britain, Helena Lucas. Despite a good first two days of competition she could not carry the consistency through with a 3,4 and a discarded 10th to give her 10 points overall.
Australia's Matt Bugg was consistent, but only in comparison to the rest of the fleet with a 1,3,5 which moves him to second on the leaderboard with 12 points.
The big German Kroeger has the same points tally as Bugg but will be disappointed with a second, fifth and discarded 12th. Another world champion, France's Damien Seguin is just one point behind on 13 points. USA's Dee Smith is on 15. On 16 points is Norway's Bjornar Erikstad who started with a bullet but followed up with a respectable fourth and a discarded 11th.
The fleet fall away after Erikstad with a ten-point gap to Italy's Antonio Squizzato in seventh.
Racing continues at the Rio 2016 Paralympic Sailing Competition on Wednesday 14 September as all fleets are scheduled for three races. The SKUD18 are on the Escola Naval course at 12:00 local time with the 2.4 Norlin OD at 12:10. The Sonars race on the Pao de Acucar (Sugarloaf Mountain) area at 12:00.