Alfa Laval announces new business manager for PureBallast as industry readies for new regulations
Beginning December 2016, Kristina Effler will assist marine customers navigating ballast water treatment alternatives as the new Global Business Manager for Alfa Laval PureBallast. Effler assumes the role just as the global shipping industry prepares for the implementation of the IMO BWM Convention's entry into force in September 2017.  
Effler brings 12 years of experience in various positions throughout the Alfa Laval organization. Most recently, she served as the Global Business Manager for the PureNOx system within the company's Marine Division. In this capacity, she was responsible for the creation of Alfa Laval's Water Treatment Exhaust Gas Emissions business area from scratch, overseeing the successful commercial development of the product.
Ready for what's coming
Effler joins the PureBallast team in advance of an anticipated boom in the number of ship retrofits worldwide. The recent ratification of the IMO's International Convention for the Control and Management of Ships' Ballast Water and Sediments (BWM Convention) outlines strict guidelines for ballast water exchange in order to minimize the impact of invasive marine species. Most vessels will be required to comply with the new rules by 8 September 2017.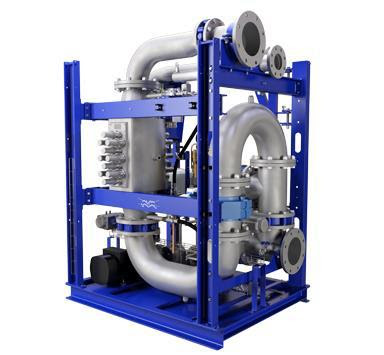 Along with the major increase in demand for ballast water treatment systems, many vessel owners and operators have uncertainties about what the new regulations will mean for them. Thanks to five years of experience with PureNOx, Kristina Effler is familiar with helping customers understand what they need to secure compliance. "There are many similarities in the way to market for all environmental products, as well as with respect to the IMO approval process," she says.
Effler also notes that PureBallast 3.1 is a complete and energy efficient system that presents and ideal solution to all ship owners' potential concerns. "It ensures fully compliant performance for all possible water conditions," she explains. "That's true in fresh, brackish or marine water—and even in challenging waters at full flow, far beyond what other systems can handle."
Motivated to do good
A commitment to nature and improving the environment has been a defining characteristic of Effler's career. She brings this dedication to the PureBallast team, and is fully conscious of the urgent need to solve problems created by the exchange of ballast water in global shipping.
"The results of invasive organisms are not immediate, but come over a longer period of time, and that's why we need to act now," says Effler. "In the end, PureBallast is about creating a sustainable balance of human impact on the environment."
Effler is proud of Alfa Laval's position as the frontrunner when it comes to green solutions in the marine industry. The positive impact of these technologies motivates her work. "This is the future, there's no doubt about it," she says. "We are doing good things, and this is what drives me."