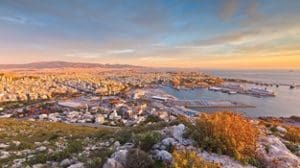 Greece's position is ideal to all intents and purposes for conducting  hipping business. Today, we are pleased to share with you a new, insightful EY study, titled "Re-positioning Greece as a global maritime capital"*. In this report, EY examines the role of Greece as a global shipping center and explore how this role can be strengthened in the face of increasing international competition and shifting world trade patterns from West to East.
The study highlights what makes a country an attractive shipping center, what are the strengths and weaknesses of Greece and each of its two major ports, and what can be done to establish Greece as a maritime capital of the world. It explores how Greece can best service the shipping industry and, in doing so, maximize the positive impact, both direct and indirect, on the economy.
The report includes an academic analysis of the structure of the Piraeus and Thessaloniki shipping clusters and a detailed analysis of Greek fleet metrics. It also draws on the insights of the shipping community, through a survey of the views of leading representatives of Greek shipping companies on the competitive advantages and disadvantages of Greece as a base for ship-management functions and of the Greek flag.
We hope you find the report interesting.
EY has got a long-term and deep commitment to the shipping industry, with a strong track record of service. EY offers a wide range of advisory service offerings including Controls Transformation, Risk-Enabled Performance Management, Market & Credit Risk Metrics, Valuation/Structuring & Hedging Advisory Services, Fleet Benchmarking & Commercial Evaluation, Optimization of Freight Outcomes, Debt Analytics, Pricing and Risk Management etc.
If you have any questions, comments, or wish to discuss further, please do not hesitate to place your view in the COMMENTS box herebelow.
*please loge here and read the full report: EY – Re-positioning Greece as a global maritime capital – 2017