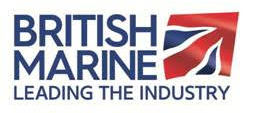 British Marine returns to boot Düsseldorf this year (20-28 January 2018) to promote British excellence overseas and facilitate exhibiting and exporting for six-member companies. Following the 4.7 per cent growth of UK marine industry exports to £924m in 2017, the membership organisation for the UK marine industry is taking a brand-new showcase stand at the event. This will enable members BGB Innovation, BHG Marine, Professional Yacht Deliveries, Savage Marine Ltd, Whitby Yachts and Yacht Sentinel to promote themselves to a large international audience. 
In addition to the showcase, British Marine will be supporting the many more members exhibiting throughout the halls at boot Düsseldorf. It will also be hosting a 'Mix & Mingle' networking reception, in partnership with Santander, on Tuesday 23 January from 17.00 on stand 11H75.
British Marine will also be using boot Düsseldorf to address the many technical areas of the industry. Technical Manager Ross Wombwell will be undertaking a packed diary of meetings in respect of the UK's commitment to ISO standard development in the marine industry. As Chairman of the British Standards Institute Small Craft Working Group, Ross will be involved in standards discussions on topics as varied as ventilation, electronic steering systems and windows, portlights and hatches. He will also be attending a European Standards (CEN) meeting with the EU official in charge of the Recreational Craft Directive, Jan Mayerhöfer.
Richard Selby, International Development Manager for British Marine said: "Promoting British excellence, British Marine and its members at overseas Shows such as boot Düsseldorf is an ideal way to continue to achieve the UK marine industry's export growth, in addition to supporting our members. It's a perfect time as business confidence in the industry has also continued to increase over the last six months, with a net balance of 41 per cent of British Marine members positive about their future prospects."
Those companies taking space on British Marine's showcase stand include:
BGB Innovation: engineering solutions provider, specialising in electrical Slip Ring Systems and Rotary Unions, Underwater Lighting & Camera Solutions and Fibre Optic Rotary Joints (FORJs).
BHG Marine:  a longstanding specialist in tenders and small craft, exported worldwide and exhibiting at Dusseldorf for the first time. Established in 1947, the family owned company prides itself on its award-winning service and facilities.
Professional Yacht Deliveries: been delivering yachts since 1995 and now relocates around 200 vessels a year, round the world. It offers a professional and efficient service to make sure the yacht is delivered by the safest and most capable hands in the industry.
Savage Marine Ltd: specialists in designing and manufacturing high quality lighting products for the superyacht industry. With in-house precision engineering, machining facilities and dedicated electrical engineers, its at the forefront of LED product innovation and lighting design solutions.
Whitby Yachts: creators of a boat designed to take family and friends to the farthest corners of the world, with the single aim of creating the safest, toughest, most economical and comfortable sub 24m boat possible and one that can easily be handled by a couple with no need for crew.
Yacht Sentinel: one of the pioneers in the market, providing a fully functional remote boat monitoring system designed to be easy to set up, user friendly and simple to use, with very low power consumption.
British Marine creates and facilitates attendance at numerous overseas marine shows and events for its members. Other Shows include Miami International Boat Show, Monaco Yacht Show and METS.
British Marine will also be joined by the Abu Dhabi International Boat Show team at the networking reception. The Show, set to take place in October in partnership with British Marine, is quickly gaining momentum. The list of exhibitors continues to expand, with over 80 local and international exhibitors, partners and sponsors signed up for the Show; recent 2018 additions include Sunseeker, IMG Boats, Mercedes EMC, Fam Holding, Integro, Elite Teak and Al Marakeb. Demand for marina space at the Show has exceeded expectations with this area now 106% sold and the show marina being expanded to meet capacity.