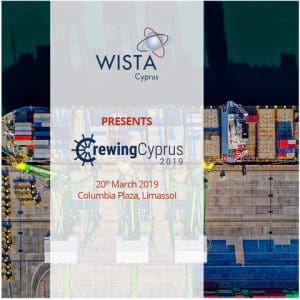 WISTA Cyprus hosts CrewingCyprus 2019 Forum
WISTA Cyprus announces their 3rd annual shipping forum. The forum's theme for 2019 is "CrewingCyprus 2019" and it will be held on 20th of March, 2019, at Columbia Plaza in Limassol, offering free admission to all participants.
CrewingCyprus 2019, will have an exclusive focus on crewing matters and is expected to attract delegates from the local and international industry, who wish to become informed and updated, on various aspects of offshore life.
As noted by WISTA Cyprus Board and Forum organising committee: "CrewingCyprus is intended to enlighten participants who work in the crewing sector, are employed or wish to be employed at sea, as well as all others within the industry, on the reality of life at sea. Another main aim of the conference is to encourage the younger generation, to pursue a career at sea. We look forward to interesting discussions and lively interactions between our speakers and the audience."
The forum aims to highlight the importance and value of the profession of the seafarer, as well as the way in which well-being can be achieved while at sea. The agenda focuses on connectivity on board and lifestyle at sea.
Confirmed speakers are as follows:
Adam Lewis, IMEC
Angie Hartmann, Starbulk S.A.
Christian Ioannou, MCTC Marine Ltd
Captain Kuba Szymanski, InterManager
Luiza Shahbazyan, Safebridge Cyprus Ltd.
Marianna Kyriacoudes, Maestro Shipmanagement Ltd.
Captain Nina Bajorat, Schiffahrtsgesellschaft Oltmann
Captain Norbert Aschmann
If you are a seafarer, work in a Crewing department, interested in following a seagoing career path or work in any position within the shipping industry, this is a conference that must not be missed.
The event is organised by WISTA Cyprus and is supported by the Cyprus Shipping Deputy Ministry, the Cyprus Shipping Chamber, the Association of Merchant Marine Officers, ICS, IMAREST and YoungShip Cyprus. Confirmed sponsors so far are IMEC, Antaeus Travel Group, Deloitte Cyprus, Future Care, JPC Shipmanagement, KVH Videotel, Maestro Shipmanagement LTD., MCTC Marine Ltd. and Tototheo Maritime.
For further details on agenda, speakers, registrations and sponsorship please visit www.crewingcyprus.com.
WISTA is a networking organization for women at management level in the maritime industry. Which works towards:
 Minimizing the existing gender leadership gap in the maritime, trading and logistics sectors.
Building a community among its members, facilitating the exchange of contacts, information, and experiences
Promoting the creation of business relationships among its members
Facilitating the professional development of its members
Providing liaison with other related institutions and organizations worldwide
More info on WISTA Cyprus are available at our new website: https://wistainternational.com/