Beijing ready to 'China-ise' the West, Rethinking strategies for financial inclusion
Commentary: Beijing ready to 'China-ise' the West
By Mojmír Hampl in Prague
The West is slowly getting over the idea that China will 'westernise'. The illusion that it is only a matter of time before the population's rising wealth will deprive the Chinese Communist Party of the power it wields is dissipating. China is enjoying growing wealth because the authorities have set loose beneficial market forces. Many western firms have profited from this, and many more crave China's custom. This means Beijing can now take the route of 'China-ising' the West, including by promoting wider use of the renminbi.
Read the full commentary on the website.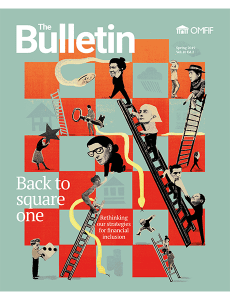 The Bulletin: Back to square one – Rethinking strategies for financial inclusion
Contributors to the spring edition of The Bulletin highlight how unorthodox monetary policy may have impaired financial inclusion. Advances in financial technology hold a great deal of promise, but they are not a panacea. In spite of fintech's  ambitions, such advances mean little if users are unable to engage easily with the technology. Policy-makers must be prepared to face up fully to these new risks. Unless they alleviate the factors that have long contributed to inequality, economies and societies everywhere will be poorer.
Download the spring edition of The Bulletin.