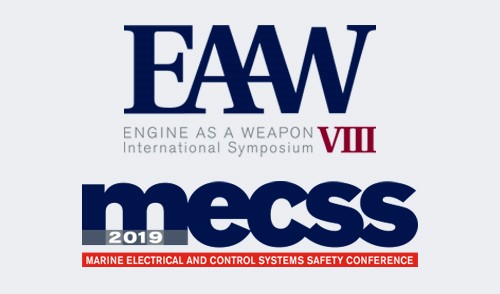 Two key IMarEST events – EAAW VIII and MECSS 2019 – open tomorrow in London
Over 130 delegates from more than 50 organisations based in Germany, Greece, Japan, Singapore, the Netherlands, USA and UK will be in London this week (2 and 3 July) for two key Institute of Marine Engineering, Science and Technology (IMarEST) events – Engine As A Weapon International Symposium (EAAW VIII) and the Marine Electrical and Control Systems Safety Conference (MECSS 2019) which are being held alongside each other for the first time.  
Both seminal events, being held at the America Square Conference Centre in London, have highly topical themes, 'Evolving intelligent platforms for the future battlespace' for EAAW VIII and 'Inspiring safer systems at sea' for MECSS 2019 and impressive keynote speakers for each. Cdr Stephen Markle USN (Ret), Program Manager and Director of the ElectricShips Office, US Navy Program Executive Office Ships will be the EAAW VIII keynote speaker and Professor Chris HodgeOBE FREng, Chief Electrical Engineer, Defence & Security, BMT takes on that role for MECSS 2019.
Regardless of which conference they are attending delegates will be able to hear from both keynote speakers and also switch between the streams on Day Two. "The subject matters are closely linked, one feeding off the other and vice versa, with papers looking at the same issues but through a different lens," explains MECSS 2019 Chairman, Kevin Daffey,Director Application Engineering and Automation, Naval & Marine, MTU Friedrichshafen GmbH and IMarEST President-Elect.
As EAAW VIII Chairman Cdr Ian Hassall RN, T45 Deputy Team Leader and T45 Platform Chief Engineer, Ministry of Defence, UK sees it: "Although each programme has its own distinct theme the synergies can be seen from the excellent cross section of papers and in the session themes online at www.eaaw.org.uk and www.mecss.org.uk.
"Artificial intelligence will be the topic of this year's panel debate entitled 'Trustworthy AI systems – Is this achievable in the maritime sector?''.  Under the chairmanship of Bernard Twomey, University of York, it will undoubtedly help form opinion amongst defence, naval and maritime sectors.
"Panellists in what promises to be a highly stimulating 75-minute discussion will be Professor John A McDermid OBEFREng, Director, Assuring Autonomy International Programme, University of York; Dr Robert Oates, Head of Product Cyber Security (Civil Aerospace), Rolls-Royce plc; Dr Martin Guthrie, Doctor, Wageningen University, The Netherlands; andAndrew Higgs, Dispute Resolution, Insurance & Legal Risk Management Consultant, Arbitrator and Mediator, Setfords Solicitors."
As ever, networking is a key component of IMarEST events and will take place at coffee, lunch and tea breaks in the exhibition area where exhibitors include the University of Strathclyde Power Networks Demonstration Centre and L3 MAPPS; and at the evening reception to be held at Trinity House, just a short walk from the conference venue.
Further information
The joint event, organised by FIGS Events on behalf of the IMarEST, is supported by the Society for Underwater Technology (SUT); Institution of Mechanical Engineers (IMechE); and the Royal Netherlands Society of Engineers (KIVI).  EAAW VIII has Babcock International Group as its major sponsor and is also supported by UK Naval Engineering Science and Technology (UKNEST) and MECSS 2019 is supported by SAFETY4SEA. Naval Forces is a Media Partner and the Official Publication is The Marine Professional.  Full information on both events is at www.eaaw.org.uk and