Broadcast Alert From Kiel Week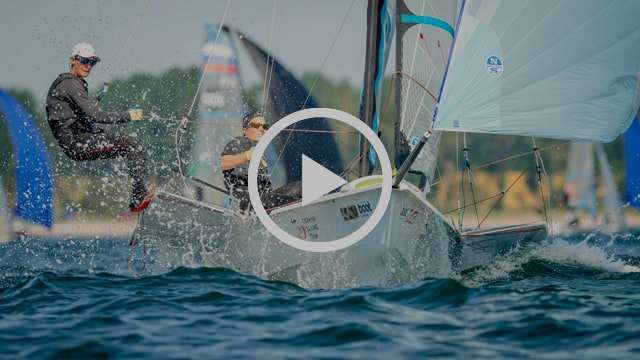 49erFX takes to the TV course on Day 3
International sailing is back as the annual Kieler Woche regatta is on! Normally held in the last week of June, the delayed event this year features strong fleets, but a lot less of the tourists that typically dominate the Kiel scene.

For us international fans, however, we are proud to bring you an English language broadcast for the second year in a row. Only some fleets are able to be featured, and here is the lineup:
– Thursday September 10th, 13:00 local – 49er qualifying
– Friday September 11th, 11:00 local – Nacra 17
– Saturday September 12th, 11:30 local – 49erFX qualifying
– Sunday September 13th, 11:00 local – 49er Gold then 49erFX Gold

Sailing journalist, Andy Rice, will host the broadcast and 49er and Nacra 17 Class Manager, Ben Remocker, will add commentary. We hope you can join us for a return to racing and can enjoy seeing some Olympic hopefuls and many new racers see where they stand after six months without regattas.

For ongoing links to the broadcasts, results, and update, see the website.
Daily Kiel Broadcast Links
As the 139th edition of Kiel Week will gather six of the ten events for Tokyo 2020 for one of the first major competitions since the COVID-19 outbreak, not everyone in the 49er, 49er FX, Finn, Laser, Laser Radial, and Nacra 17 fleets can get to Germany on September 10-13.

Watching from afar will be Olympic silver medalist Jason Waterhouse Lisa Darmanin who remain restricted in their homeland of Australia. For the cousin duo, their story caught the attention of the International Olympic Committee which shares this report:
Here are the daily links to the broadcasts from Kiel.