How to Manage a Presidential Transition 
How to Manage a Presidential Transition
FEATURED INSIGHTS
NOVEMBER 2020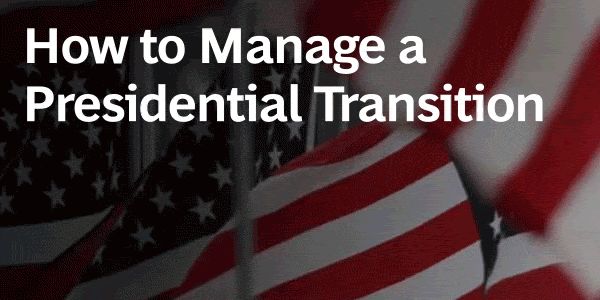 The transition to a new presidential term is a massive undertaking—and one of the key hallmarks of US democracy. Effective governance on a national scale depends on a smooth White House transition process and, just as important, on federal agencies' ability to adapt and react to the demands of a new term.
New leaders will be taking the helm of agencies across Washington, DC, early next year. Here's how they can manage their transitions effectively.
During the transition, President-elect Joseph R. Biden will prepare for the critical shift from campaigning to governing. BCG and the Center for Presidential Transition analyze where incoming presidents have historically focused their energy as they ready for their presidential term.
LEADERSHIP BY DESIGN
Advice and insights on navigating the complexities of today's leadershp and management environment.