Hot Port News from GAC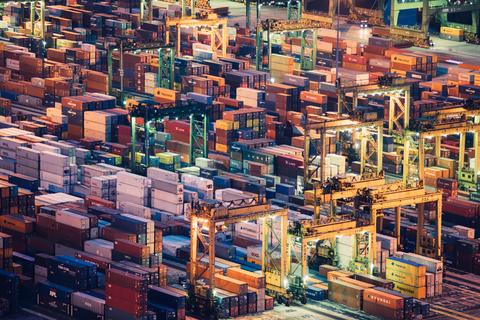 08-Jan-2021
BERTH MAINTENANCE SHUTDOWN
Haldia, India
COVID-19 ADJUSTED ALERT LEVEL 3
South Africa
UPDATED GUIDELINES ON THE CONDUCT OF CREW CHANGES (7 JAN)
Philippines
INBOUND TRAFFIC STOPPED
Gibraltar
SOP FOR HANDLING VESSELS ARRIVING FROM FOREIGN COUNTRIES
Mormugao port, India
COVID-19 UPDATE: ANGOLA
Angola
CREW CHANGE (EMBARKATION/DISEMBARKATION) FACILITATION CHARGES
Mundra, India
VESSEL SHIFTING CHARGES DUE TO BAD WEATHER & FORCE MAJEURE INCIDENT
Mundra, India
MARINE FORECAST
Bahamas
COVID-19 UPDATE: BAHAMAS
Bahamas
Berth maintenance shutdown
Friday, January 8, 2021, Haldia, India
The Haldia Port authorities have advised that Berth 17 of Haldia Oil Jetty-II (HOJ-II) will remain under maintenance shutdown from 8 to 9 January 2021. The shutdown will commence after sailing of the working vessel from the berth.
For information about operations in India, contact GAC India at india@gac.com
COVID-19 Adjusted Alert Level 3
Friday, January 8, 2021, South Africa
According to Notice No.10 issued by Transnet National Ports Authority (TNPA) dated 7 January 2021, the health risk alert for COVID-19 has been adjusted to Level 3.
Measures in place
It is important that all vessel Masters make accurate Maritime Declarations of Health and well-being of all on-board to the Authorities. Any false declaration will be viewed in a serious light and reported to the South African Maritime Authority and Port Health officials for further action resulting in detention, fines and additional stricter measures.
Vessel Masters must make declaration of crew who joined the vessel in the last 30 days and the transit points they went through and stowaways, if any, on-board.
Cargo and passenger vessel crews:
a) Foreign cargo vessel crew changes can take place in any of the South African Ports as per SAMSA Marine Notice 47 of 2020 and subject to the conditions contained therein.
b) Passenger ships are not permitted to call at any of the ports except for replenishing fuel, stores, provisions, repairs and crew & passenger shore leave remains prohibited.
c) Additional permitted activities:
Disembarking of returning South African citizens and holders of South African permanent residence permits;
Medical evacuation; and
Search and Rescue
Maritime Safety Precautions:
1) Masters of vessels must maintain a medical log of daily temperature screenings of all persons on board and this must be presented to the Port Health Officer on request.
2) All crew signing off must undergo a proper Covid-19 test prior to arrival at any airport – all luggage must be sanitized.
3) All crew signing on vessels must either have a PCR or have done a Covid-19 test done prior to joining a vessel .
4) Persons embarking and disembarking vessels must now undergo temperature tests, and fill in Covid-19 declaration forms, wear PPE, maintain physical distancing and ensure good hygiene.
All vessels will be permitted to replenish fuel, stores, provisions, spares and conduct critical maintenance repairs in all South African ports.
All Ports are open for cargo operations under strict COVID-19 protocols with conditions.
The vessel bridge and equipment to be sanitised before the pilot embarks and after the pilot disembarks the vessel. All bridge equipment to be used by the pilot will be sanitised. Social distance must be maintained at all times and external access used to avoid contact with vessel living quarters.
Pens and all stationary to be used by the pilot must be sanitised. Use of electronic copies is preferred where possible.
All crew and visitors to the vessel must make use of PPE and maintain a distance of at least 2m where possible – no crossing in alleyways or narrow passages. Gangways must only accommodate a single file of people at least 2m apart. Only one way traffic on gangway. The rails of the gangway are to be sanitised every 4 hours. Tally offices, reception areas, common use areas and toilets facilities to be regularly sanitised and exceptional hygiene standards to be practiced.
No person must be allowed to board unless on official business. An accurate record/log of all entry of persons and testing must be kept and ready for inspection by any Authority. Temperature screening records of crew must be maintained on daily basis and any persons boarding the vessel must be screened. Vessels' Covid-19 plans must include restricted access to vessel.
Dedicated sanitising stations must be provided on every vessel. All Terminal Operators to comply with the Disaster Management Act Regulations as amended to limit the spread of the Coronavirus – Social distancing and washing of hands must be observed and all must use the appropriate usual safety PPE as well as the masks and any other PPE deemed necessary.
Wearing of masks in public or when interacting with shore personnel is mandatory – failure to use a mask is punishable by a fine or imprisonment or both.
The disposable PPE from every vessel must be disposed of as hazardous waste. A separate medical waste bin must be provided on every vessel for this purpose.
The transfer of stores and spares for Off Port Limits vessels are permitted subject to compliance with strict COVID-19 Protocols.
Medical Evacuations from Vessels
1) All Medical Evacuations to be conducted from vessels out at sea must be communicated by the shipping agent and Maritime Rescue Coordination Centre (MRCC) to Port Health Services of the nearest harbour.
2) Evacuation of seafarers, passengers, mariners on board all ships along the South African coastline must be allowed in terms of Search and Rescue as well as the Merchant Shipping Act, 1951 (Act No.57 of 1951) and subject to the following:
The evacuation must comply with the provisions relating to medical evacuations contained in the South African Maritime and Aeronautical Search and Rescue Act, 2002 (Act No. 44 of 2002) and
The evacuation must be carried out in terms of the MRCC SOPS and Marine Notice 24.
General
All Stevedores must be registered as workers, have contact details to be able to be traced for purposes of sharing information and possible infection risks – also be screened on vessel.
Shore leave for crew will be permitted for essential reasons only or in an emergency. Also note the country's COVID-19 Lockdown Level 3 regulations also restricts the movement of people between 21h00 and 06h00. Non-compliance to these regulations are considered serious and carry a fine or imprisonment or both.
Limited interaction between bunker barge operator and vessels is permitted. Crew to ensure gloves are provided and used when handling mooring lines and all preventative precautions are upheld. Risk of disease transfer from hoses, flanges, tools and documents must be considered when providing PPE. Strict hygiene control must be in place for all activities conducted onboard. Bunker barges to ensure washing facilities & sanitation is provided onboard. Minimum interaction with Master and crew of vessel. Records of vessels and all interactions as well of any suspected and confirmed cases must be kept by the bunker barge operators and reported to the Port Authority. A Covid-19 Compliance Officer must be nominated as per the regulations.
Any confirmed cases of Coronavirus, suspected cases or other sickness are to be reported immediately to the nearest Port Control and to the Port Health Officer.
South African Ports are at Security level 1(to be revised) of the Maritime Security Regulations 2004 & the ISPS code, however access control, searches and operations will apply. Passenger terminals will remain at security level 3, as well as respective passenger liners intending to call at South African Ports until further notice – as per Department of Transport directive issued on 13 November 2020.
All waste removal will be permitted by licensed service providers with strict adherence to Covid-19 protocols and subject to the Department of Health requirements.
Technicians, surveyors and essential maintenance personnel will be permitted to visit vessels in port and anchorage – subject to meeting all COVID-19 protocols.
All vessels shall abide by the relevant SAMSA Marine Notices and TNPA Notices in force.
Suspected cases should be discussed with public health call line no. 0800 029 999. The local Port Health Office, Harbour Master and Agency must be informed of any suspected cases.
For further details and updates, as well as information about operations in South Africa, contact GAC South Africa at shipping.capetown@gac.com
Updated guidelines on the conduct of crew changes (7 Jan)
Friday, January 8, 2021, Philippines
Here are the updated guidelines on the conduct of crew changes in the Philippines, dated 07 January 2021:
(A) Ships coming from or having rendered port of call/s from the below listed countries within 14 days immediately preceding arrival in the Philippines, are temporarily restricted from disembarking their foreign seafarers until 15 January 2021.
List of identified countries:
Australia
Brazil
Canada
Denmark
Finland
France
Germany
Hong Kong
Iceland
India
Ireland
Israel
Italy
Japan
Jordan
Lebanon
Netherlands
Norway
Portugal
Singapore
South Africa
South Korea
Spain
Sweden
Switzerland
United Kingdom
United States
Please note that additional countries can be included in the above list as may be directed by the Office of the President.
However, foreign passengers coming from, or who have been to Portugal, India, Finland, Norway, Jordan and Brazil within 14 days immediately preceding arrival in the Philippines, arriving before January 8, 2021, 12:01AM, Manila time, shall be allowed to enter the Philippines. They shall be required to undergo an absolute facility-based 14-day quarantine period, even if they have obtained a negative RT-PCR test result.
(B) Filipino and foreign seafarers with no immigration admission in any of the countries listed in Item A within the last 14 days preceding arrival in the Philippines shall be allowed to disembark subject to existing health and safety protocols of the established One-Shop Shops (OSS) for Seafarers.
(C) Filipino seafarers coming from countries mentioned in Item A, or who have been to the same within 14 days immediately preceding arrival in the Philippines, shall not be prohibited from disembarking their ships, but shall be required to undergo an absolute facility-based 14-day quarantine period notwithstanding a negative RT-PCR result.
(D) Seafarers that fall under the classifications of Item C are only allowed to disembark in Port of Manila and shall be transported by their shipping agents to the designated quarantine facility via P2P under strict monitoring of the Philippine Coast Guard (PCG).
Relative thereto, Filipino seafarers shall undergo the mandatory 14-day quarantine in OWWA-assigned facilities or at Athlete's Village in New Clark City with accommodation shouldered by the Philippine government.
(E) Embarkation to ships bound to the countries mentioned in Item A shall be subject to the existing exit protocols of the Philippines as well as entry protocols of the respective countries.
For further details or information about operations in the Philippines, contact GAC Philippines at philippines@gac.com
Inbound traffic stopped
Friday, January 8, 2021, Gibraltar
Gibraltar Port Authority has advised that barges are unable to get alongside anchored vessels due to increased winds and heavy swell. Inbound traffic has stopped.
For updates or information about operations in Gibraltar, contact GAC Gibraltar at agency.gibraltar@gac.com
SOP for handling vessels arriving from foreign countries
Friday, January 8, 2021, Mormugao port, India
Director General of Shipping vide its order no. 35 of 2020 has decided that the mandatory quarantine period of 14 days mentioned in Para 13 of the DGS Order 04 of 2020 shall not be insisted. The following protocol with respect to PPE will be followed at Mormugao Port.
Pilots or inspection staff embarking vessel with no suspected case on board, the risk is low and following protective gears are advised:
a. Triple layered mask
b. Gloves
If the pilot or inspection staff embarking vessel which has a suspected case of COVID-19 on board, the following protective gears are advised:
a. N-95 or equivalent mask
b. Gloves
c. Shoe cover
Port personnel embarking vessel but not coming into contact with the ship crew:
a. Triple layered mask
b. Gloves
Personnel involved in cargo operations are advised to put on the following protective gears:
a. Triple layered mask
b. Gloves
c. Regular maritime PPE like shoes, helmets, working gloves etc to be worn as per the existing practices of the ports
Hand hygiene to be practised at all times
Disposal of PPE shall be as per the guidelines of MoHFW issued from time to time
All stakeholders are requested to adhere strictly to this SOP.
For information about operations in India, contact GAC India at india@gac.com
Source: Mormugao Port Trust Trade Notice No.10/2021 Addendum No 1 to Trade Notice No 05/2020 dated 07 January 2021
COVID-19 Update: Angola
Friday, January 8, 2021, Angola
Under the directive of Ministry of Health, the Maritime Authority of Angola has decided to suspend indefinitely all vessels and crew arriving in to Angola from South Africa, Australia, Nigeria and the United Kingdom effective immediately due to the aggravated covid-19 pandemic in the subject countries.
The authorities have not advised of any quarantine period for vessels arriving from these countries, and further clarity for vessel clearances that are calling at offshore terminals are pending.
For further details or information about operations in Angola, contact GAC Angola at angola@gac.com
Crew change (Embarkation/Disembarkation) Facilitation Charges
Friday, January 8, 2021, Mundra, India
As a key player in facilitating crew changes for vessels, Mundra port's fully operational immigration check post the port will implement charges of $ 20 applicable per person for any crew change (crew change = total number of crew sign off + total number of crew sign on) with effect from 01 February 2021.
The following points shall be applicable to all vessel operating agents and shipping lines with mutual coordination for smooth operation.
Shipping agencies to continue to be directed by latest DG shipping circular for crew change.
The planning for COVID-19 Test, Quarantine compliance, logistics and mobilisation for all associated services to be arranged by shipping agents.
Crew change facilitation will include screening and clearance at Port Security gate.
Port shall coordinate and process documentations, as required to be done by the port operation center for crew change.
Above charges does not include immigration and customs charges if any.
The above referred crew change charges is not applicable if disembarkation of crew on medical grounds.
Above charges shall be reflected and updated in BPTS and shall be sent to trade in next revision.
For information about operations in India, contact GAC India at india@gac.com
Source: Adani Port and Logistics Circular no: APSEZL/Marine/01/2021
Vessel Shifting Charges Due to Bad Weather & Force Majeure incident
Friday, January 8, 2021, Mundra, India
There have been instances where Mundra port has had to unberth or shift a vessel from berth to anchorage due to bad weather or force majeure incident.
The port has decided to issue a clarification on such cases and share the charge and therefore charge "50% of the pilotage charges" as the shifting charges to the vessel.
Please note that the final decision of shifting the vessel will be as per the port's discretion taking into consideration the safety of port /vessel/crew, weather forecast etc.
The charges for vessel shifting due to bad weather will be applicable from 01 February 2021 and will be updated in the next revision of BPTS.
For information about operations in India, contact GAC India at india@gac.com
Source: Adani Ports and SEZ Ltd Circular no: APSEZL/Marine/02/2021
Marine Forecast
Friday, January 8, 2021, Bahamas
Adverse/Hazardous conditions should not last beyond Saturday.
Buckeye Bahamas Hub Terminal – Restricted 07 January 2021 2212hrs
Terminal pilots will conduct another weather assessment 1100hrs 08 January 2021. For now, the terminal remains in restricted conditions and all vessels will remain on berth. If weather conditions continue to deteriorate, the terminal pilot will have to decide to close port and remove all vessels from the berth and advise on closing the port.
We will continue to monitor and liaise with the terminal and advise on any changes to port conditions.
Equinor South Riding Point Terminal – Under Repairs
Offshore Lightering- Weather Conditions are favourable for STS operations at Offshore Freeport , Bahamas.
We will provide information as it becomes available on any changes that will affect operations off-port.
For information about operations in the Bahamas, contact the GAC Houston Hub Agency Center at hub.us@gac.com
Source: Elnet Maritime – GAC agent
COVID-19 Update: Bahamas
Friday, January 8, 2021, Bahamas
Local health officials have confirmed that the results of the COVID-19 RT-PCR test required by the Bahamas Government to conduct crew changes are now available within a 24hours turnaround. This new accelerated turnaround time allows for crew change operations to be conducted not only safely but now expeditiously.
For your ease of reference please see below the current commercial flight operation schedules into Grand Bahama. If the current commercial flight times are not suitable or unavailable, we can also arrange private flight charters for your convenience.
COMMERCIAL FLIGHT OPERATION SCHEDULE
American Airline Embraer 145 – 50-seater current daily flight information for Grand Bahama as follow: MIA – FPO 10:42am – FPO – MIA 13:13
Silver Airline Saab fleet Double Engine – 42-seater current flight information for Grand Bahama as follow: Saturday one flight only FLL -FPO 11:45 – FPO – FLL 13:05
Mandatory Vacation-in-Place Requirement is replaced by COVID-19 Health Insurance, Monitoring Procedures, and On-Island Rapid Testing for Those Staying Longer Than Five Days.
All travellers are required to:
Obtain a COVID-19 RT PCR test five (5) days prior to arrival.
Apply for a Bahamas Health Travel Visa at https://travel.gov.bs/
Take a COVID-19 Rapid Antigen Test on Day 5 of the visit (unless departing on day 5).
Always wear a mask and always social distance in public places.
All visitors will be required to opt-in to mandatory COVID-19 health insurance when applying for their Health Travel Visa. The insurance will cover travellers for the duration of their stay in The Bahamas.
Specifics of the protocols are as follows:
Prior to Travel:
COVID-19 RT-PCR Test
All persons travelling to The Bahamas must obtain a negative COVID-19 RT-PCR (swab) test taken no more than five (5) days prior to the date of arrival.
The name and address of the lab, where the test was performed, must be clearly displayed on the test result.
Exemptions:
Children age ten (10) and under
Pilots and crew of commercial airlines who remain overnight in The Bahamas.
Bahamas Health Travel Visa
Once in possession of a negative COVID-19 RT-PCR test result, apply for a Bahamas Health Travel Visa at https://travel.gov.bs/
Click on the International Tab and upload test results and other required documents.
Fees for the Bahamas Health Travel Visa, inclusive of Day 5 Rapid Antigen Test and mandatory health insurance, are as follows:
$40 – Visitors staying up to four nights and five days.
$40 – Citizens and returning residents.
$60 – Visitors staying more than four nights.
Free – Children 10 years and under
Upon Arrival
Comply with Monitoring Protocols:
Any visitor who exhibits COVID symptoms at any time during their stay will be required to take a Rapid Antigen Test and receive a negative result before being permitted to continue with their vacation.
If a person tests positive they will be required to follow up with a COVID-19 RT-PCR swab test.
Rapid COVID-19 Antigen Testing (if applicable):
All persons who are staying in The Bahamas longer than four nights/five days will be required to take a rapid COVID-19 antigen test.
All visitors departing on or before five days will not be required to obtain this test.
The rapid tests are easy, quick and will yield results in 60 minutes or less with results being provided electronically via SMS text message and email
Hotel properties will provide relevant information on testing arrangements, while others will facilitate the required rapid test for their guests.
All persons on yachts and other pleasure craft will be able to make arrangements for their required rapid tests at the port of entry or via the relevant website.
All other visitors, returning residents and citizens will be able to make arrangements for their required rapid tests at the port of entry or via the relevant website.
Notwithstanding any health restrictions that may be implemented from time to time, all travellers abiding by these new protocols will be permitted to move within the Bahamas.
Kindly note information will be provided as they become available, as information can change at any time
For information about operations in the Bahamas, contact the GAC Houston Hub Agency Center at hub.us@gac.com
Source: Elnet Maritime – GAC agent