Balboa Yacht Club posts NoR and RFI information for 54th Governor's Cup; World Sailing confirms dates for Youth MR World Championship
2021 Governor's Cup set for July 26-31, 2021 and World Sailing has confirmed the August 9-14 dates for the Youth Match Racing World Championship, also hosted by BYC
NEWPORT BEACH, CA (Wednesday, January 20, 2021) Balboa Yacht Club has posted all the information necessary for requesting an invitation ("RFI") for the 54th Governor's Cup International Youth Match Racing Championship, July 26-31, 2021, on the event website, www.govcupracing.com. The Club will also host the 2021 Youth Match Racing World Championship and the sport's worldwide governing body, World Sailing (sailing.org), has confirmed the August 9-14 dates proposed by the Club for that event. The new dates for both regattas will maintain a one-week break between the two for the all-volunteer event staff.
"After the cancellation of the Cup last year for the first time in 54 years due to COVID concerns and travel restrictions, we look forward to the best ever "GovCup" this year!" said Christine Robertson Gribben, Chair of both events.
The Governor's Cup is presented by Disc Sports & Spine Center and is an invitational event for sailors that have not reached their 23rd birthday by the last day of the regatta. This year, a special exception to that rule was made by BYC to allow skippers invited to the 2020 Cup before it was cancelled to request an invitation to the 2021 regatta and, if invited, they may sail even if they don't meet the age qualifications by the July 31, 2021 date. Crews are not included in this exception and must still be no more than age 22 on that date. There are only three potential skippers of the twelve invited last year that could take advantage of this one-time rule change, but all are still within only a few weeks of qualifying without the exception.
"We expect a 'Grade 1' quality fleet and perhaps the toughest year ever for gaining an invitation," said Selection Committee member Andy Rose, referring to World Sailing's grading system for international match races which is based on the overall quality of the regatta, its administration and the World Sailing Open Match Racing Rankings of the skippers. "At present, the second and fourth ranked skippers in the Open Rankings (not age limited) are the two most recent winners of the Governor's Cup, Harry Price (AUS), who won in 2018, and Nick Egnot-Johnson, the winner in 2019," continued Rose, "Although Harry has 'aged out' of both GovCup and Worlds (but not without winning both), hopefully we'll see Nick back this summer to try to join eleven other sailors over the years that have won twice,"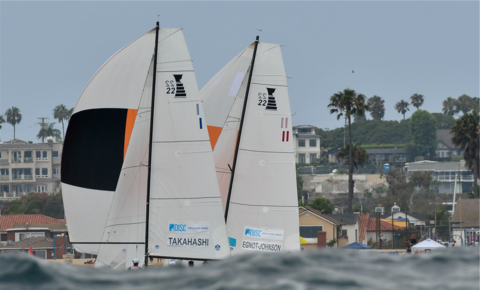 Grade 1 is generally only granted to regattas in which most, if not all of whose entrants are professional sailors but the Governor's Cup was the first age-limited event to ever receive Grade 1 status in 2018. The 2021 Governor's Cup has initially applied as a Grade 3 regatta so if World Sailing wishes to modify that grading, it would happen retroactively as was the case in 2018.