Markets at the mercy of China and Coronavirus with Geopolitics getting sour…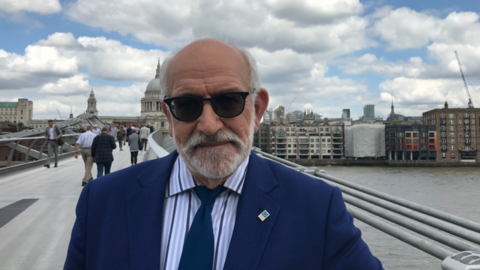 Despite a good week, the BDI (Baltic Dry Index) fell on a daily basis – 72 points since yesterday, and now stands at 1,698, losing the 1,700 points threshold. On a weekly basis though same was up 359 points since last Friday the 12h of February when it stood at 1,339 points – the weekend of love with a bit of Valentines flavour and the beginning of the Chinese New Year – the odd for us Year of the Ox, surpassing the 1,400, 1,500 and 1,600 points thresholds. The Wets too on a party …mood. Geopolitics in combination with the double Recession on and the Coronavirus anathema still uncontained will cause Tsunamis for the foreseeable future. As our title dictates, we like it or not we are at the mercy of the Chinese and if we don't contain the Chinese advance in all fronts, mathematically we stand for a disastrous society and a new world order for which the "West" and its allies have to counter… Putin's Russia begins to feel unease with China… We favour Perfect Competition, not Monopolies, nor Oligopolies as our late Prof. James McConville taught us. John Faraclas' daily and weekly recaps:
The Capes' BCI was down 177 points to 1,715 losing the 1,800 points threshold. On a weekly basis, the BCI was up 473 points – from 1,242 last week (12/2) with the 1,300 to 1,700 – even 1,800 point-thresholds being conquered. Volatility at its best yet again…
The Panamaxes' BPI was down 139 points to 2,332 – what a reflecting figure. On a weekly basis the BPI was up 388 points – from 1,944 on 12/2 and breaking over and above the 2,000 to 2,500 points respective thresholds… Again volatility the name of the game with China calling the downward shots…
Interestingly the Supras were up 72 points bringing the BSI over and above the 1,500-point threshold at 1,513, which is 296 points, plus since last Friday the 12 of February when same stood at 1,217. Again, we witnessed the conquering of the 1,300 up to 1,500 points threshold advance!
Very good performance from the Handies' BHSI now on course – hopefully to the 1,000-point mark, with 57 points plus reaching 901! On a weekly basis the Handies gained 150 points surpassing both the 800 and 900 levels – up from 751 last Friday.
So, all in all NOT a bad Dry market but same is in the mercy of the Chinese demand for cargoes; doing whatever pleases them… Ups and Downs in this instance is beyond any expected or unexpected short, medium or long-term volatility. CAUTION as we don't see long period fixtures…
On a positive tone both Wet Indices; the last published BDTI (Dirties) and BCTI (Cleans) stood at 639 – up 12 and 571 – same as yesterday respectively. On a weekly basis, the Dirties gained 100 points – up from 539 last week and the Cleans were up 73 points – from 498 last week. Both indices surpassed the 600 and 500 points threshold respectively… Watch this space though…
Odd times for Containerships and their trade with damaging effects to consumers due to Coronavirus.
The Ships Sales and Purchase front is a promising one, particularly energy efficient new buildings; wind powers will revolutionise the entire intermodal chain as ships form its biggest sector…
The WTI brought trouble since the 1st of Feb 2021 to over 7.7 billion people on Planet Ocean and even surpassed for three days – 16, 17 and 18 Feb, the US$ 60 mark. Today same dropped down to US$ 59.91, still an unacceptable level in its entirety. As we have numerous times stressed in this column whatever is a cent above the US$ 40 mark is lethal, not just disastrous for these 7.7 billion of humans; end of the story.-
On the HR sector mind the Crew Changes. Both Seafarers and their Families as well as Shipowners had enough from incapable governments.
On the Geopolitical front be prepared to witness extraordinary developments in all fronts in all five continents as:
USA president Joe Biden will attempt the big change to ensure America maintains its leadership position;
China flexes its muscles starting from the Pacific with South China Sea being an imminent confrontation region;
Putin's Russia agenda is totally anti-American as well as anti-European;
Turkish president Erdogan's hallucinations in creating a New Ottoman Empire and the biggest Caliphate ever seen, supported by tough Islam looms now, not in the background, but openly;
the Subcontinent rivals ready to "play" with nukes;
Africa in disarray as well as in total corruption assisted by super powers' proxy economic wars for dominance;
South America in its usual populist lefty loony "reforms" and revolts…
ah and Australia trying to survive…
I haven't left or forgotten the Mighty Continent, Europe, being once again in the eye of the cyclone as the german lead Brussels Moron's House …err the EU continues the distraction of Europe… You read correct, the distraction of Europe. Italy is at the brink and let us all hope Mario Draghi, super Mario, can save the day there as PM and the EU at large…
The Middle East in its entirety as well as North Korea are also thorny issues…
Japan is closely watching as Japanese have vested economic interests too everywhere…
This is where we stand at the moment and don't ignore the Environment with its urgent Climate Change needs – from the beginning of the Millennium… Add Planet Ocean's debt now in the tune of US$ 300 trillion (threehundredtrilliondollars) and the uncertain outcome of the Coronavirus Anathema and see what you get… The way this pandemic is being tackled is beyond corruption…
MIGRANTS remain the number one issue and coupled with corrupted and blackmail-champion leaders continues to cause despicable mess in our society; the entire Med with thousands trying to make it over to Europe, people having nothing to do for example with the atrocities in Syria's wars… There is no excuse Frau Angela Merkel and Frau Ursula von der Leyen to destroy Europe particularly with the way you both handle the MIGRANTS issue and Turkish aggression in Central, East Med – including the Aegean and the Balkans, not to mention South Caucuses – Armenian/Azeri, Kurdish Issues, Cyprus and Greece…
The above is part of the main Faulty Line – Gib to Afghanistan and Caucuses to the Horn of Africa…
Watch out the Turkish provocations against Greece as the shit will hit the fun at any moment triggering the worse ever confrontation… Hypocrisy MUST end particularly from German lead Brussels. The United Kingdom too must choose between ethics and apathy vis-à-vis the Cyprus issue…
Many people MUST go back to the drawing board …err Uni and understand / learn the Law of the Seas and in particular what is the meaning of International Waters – that includes many Greeks too… I can entertain them all at once any time live in any A1 TV station.
BREXIT makes waves and many issues MUST be shorted out…
The EU M U S T get its act together… before is to late… Mind also the USDollar – Euro parity…
At the other side of the Atlantic by the end of April when the first 100 Biden's Days expire we might have a hint of what will happen… We expect that he re-unites all his fellow Americans for their benefit as well as for the world at large.
Central and South Latin America in turmoil… Wonder what is next in Venezuela…
In the Far East we are closely monitoring – like we did with a boat in 2014, the Chinese intentions particularly in South China Sea…
Mind Myanmar, still a long standing …stand-off between the Military always recycling Democracy there and Aung San Suu Kyi… and her followers; CAUTION!
Webinars are now the norm; at least we are all in touch but we need better IT and Communications, particularly fast and reliable Internet or else… We are sending a strong message to all responsible so as to avoid future misunderstandings… Also let us curb Cyber Crime which these Coronavirus Days is skyrocking. Banking Fraudsters and Stock Market Criminals on the rise. Pin them down, Name and Shame them here and now!
On Sexual Harassment too we need to see an end in all sectors of life and business and we wish to see all those pathetic criminals sit on the dock; we need Society to Name and Shame them worldwide. In Greece where the Pandora's Box of Revelations is slowly slowly opening, we need to see all these perpetrators be humiliated as well as their protégés… Come on Name and Shame them all.
More news on geopolitics next week.
On the Coronavirus Anathema: be / remain Disciplined as citizens, be Responsible as Politicians and brace as this situ will continue for the foreseeable future unless we see a real medical confrontation at all levels against today's  spasmodic responses and the …scam as many believe that derives from the pharmaceutical companies in the race to sell and the greediness of many to make money… ALSO from bad politicians, totally out of any context to tackle such a crisis. Opening and closing the markets with lockdowns create a worse situation… We need Draconian laws… and the use of Dura lex sed lex – Latin term that means "it is harsh, but it is the law" must be performed. CAUTION as in 2021 the international public cannot be fooled indefinitely… Centre to left political parties might come to power because of the bad handling of Coronavirus given also the current double Recession…
As we have said in writing, 2021 is the year of Planet Ocean's R E S E T / R E B O O T!
Earlier on tonight we finalised our second www.allaboutshipping.co.uk Top Women in Shipping for 2020. This second "contest" comes at no better time as we believe that we must mobilise our modern Lysistratas and change Planet Ocean in its entirety. Let's hope they can do it! Congratulations to all women, to all our Sea-Maidens and to the winner Irene Rosberg!
On another tone and note the Carnival now begins in the Eastern Christian Orthodox World… Hope we fly our kites on Monday the 15th of March!
Have a nice evening and weekend and continue to remain on guard from actions emanating from Pirates, Terrorists, Criminals and any Business Hooligans whatsoever wherever you are on Planet Ocean. Once again a big THANK YOU to all who really care for all humans – Doctors, Nurses, Seafarers, Dockers, Port Authorities et al during this Coronavirus disaster!! We repeat: Do please invest in Hospitals including Equipment, Doctors, Nurses and any useful means to avoid further disasters! Become more disciplined and care for the Environment too. Lastly: Education and Training for all to be able to tackle these disasters. Let us work collectively together and NOT opt for a fistful of Dollars to restart the already collapsed global economy… which is in red US$ 300 (threehundred) trillion…