Art in time of a pandemic: Silviya Georgieva-Sellvida's cutting edge collages in London exhibition
By James Brewer
Everything turned surreal when huge swathes of society shut down in March 2020. For many people, life seemed ominously to have lost its purpose; others, such as London-based artist Silviya Georgieva, faced up to the challenge to extend their creativity and overcome their vulnerability.
Of all people, visual artists are familiar with the milieu of the surreal, and Silviya, whose early life was spent in her native Bulgaria, employed to the full her immersion into a frequent element of surrealist expression: the dynamic of collage, a discipline which had long been a key feature of her practice.
Unfazed by the tough 'stay at home' orders, she stayed the course to interpret the societal stasis in her own way. She framed her courage into authentic and striking pieces of draughtsmanship.
The results – simultaneously a triumph of dignity and geometry – will be revealed on May 22, 2021, at the Bulgarian Cultural Institute in Kensington, London, when Silviya, who goes under the professional name of Sellvida, opens her solo exhibition Art in time of a pandemic.
This launches the totality of her output for the last 12 months in painting and drawing: 25 artworks. She says: "The whole show is based on my personal experience during lockdowns in London." She started drawing as therapy for herself, countering insomnia during the first lockdown, and in recovery from an injured hand which had made her hold back from recourse to pencil, brushes, and most saliently, scissors.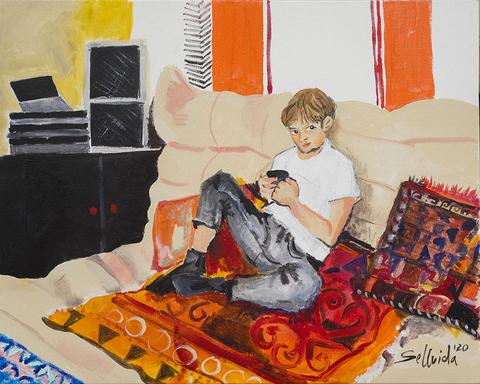 "Art is most important for my wellbeing," says Sellvida. "It is like meditation, when your thoughts are flying, and you have the feeling you are not here."
Refusing to be pushed back by what seemed to be an unresolved narrative of a fractured society, "I started sketching night and day everything around me, my family, my neighbours, the interior of my home, the streets.
"I love to experiment and decided to do collage with paper cut based on positive/negative, simplifying shapes.
"I had been in one very interesting exhibition of Japanese paper cutting and was pleasantly surprised by the precision of the Japanese artist who did the cutting and decided to do collage with scissors only: for that reason, I bought special Alex design Japanese scissors."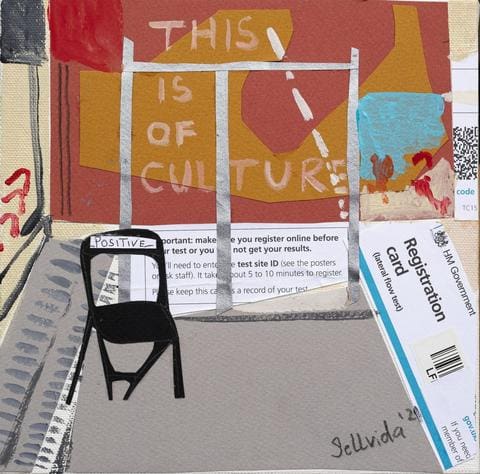 Within that constraint emerged meaningful configurations each bearing an emotional charge.
During lockdown 1.0 in April 2020, she was inspired by a beautifully composed photograph of herself taken by her son in front of her living room window. At the time, "Everything was surreal, no travelling, no work, no city noise, no aeroplanes in the sky. It was not possible to go out, and the only things we are doing is looking from the window to see some form of life around. It was a bit of a scary time, but this was our hope and connection with the world."
The resulting work, called A quiet place was selected by American artist and cartoonist Michael Cavna for an international Pandemic Art Project for the Washington Post. Out of 650 paintings, the newspaper chose hers among only 20 artworks to feature in an online issue in June 2020.
Among other works on show at the Bulgarian centre will be: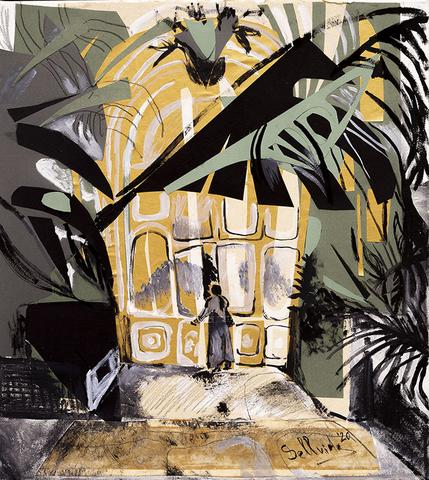 The Positive Corner which echoes the impersonality of the official systems for tackling the virus, with a clipping from a registration card for a lateral flow test, and a simple chair marked Positive – a word with a double meaning in these onerous times.
A jolt into different imagery, The Warrior and another piece entitled Samurai references a more ancient type of combativity.
Curiosity shows a child raising a telescope to peer through a window, beyond pots of house plants, a feature representing nature in many of her works.
Jungle in Kew shows a figure at the door of a hot-house full of over-arching botanical specimens.
In Study of a Boy a wary youngster resting on a sofa is clutching his phone, cut off from direct contact with the outside world despite his access to technology.
The most recent artwork is called The Dog and the General. It is based on photos taken by a man of his dog named Kao which had been stolen, alongside various political figures in Bulgaria and France, including a military general in Sofia who gives a daily televised briefing on the pandemic.
Sellvida, who mastered textile and graphic design at prominent Bulgarian art and design universities, has since living in London executed many mixed media and collage works including scenes of the capital's landmarks, seascapes and still life settings.
She says: "My art is inspired by Japanese technique, and artists like Georges Braque, Picasso, Matisse, Juan Gris, Pavel Zoubok (a New York art dealer and enthusiast for collage) and many more. Of course, the composition is the most important thing in every artwork, and I experiment a lot with different textures, paper, and art materials."
She collects many different types of paper from around the world, placing them layer after layer to build the aesthetic language.
In a text note (translated by Vili Petrova) for the exhibition, Anelya Nedeva wrote: "Art in time of a pandemic? Yes! What else could carry you on the wings of your imagination closer to your own self?" The critic described art as "the invisible thread connecting us to one another. It is the ultimate responsibility of the artist, it is the love of humanity, the pain, and the dream … it is a sense and hope."
Anelya Nedeva observed: "Sellvida took it on herself to be the question and the answer, the subject and the object to her creative endeavours." In the days of no social contact, fear of the unknown, and loss of support Sellvida "inspires us with the depth of her creative expression and with the wealth of metaphors expressed in colour and shapes… The main actor is now a window, a window looking inward to a private world, a window that each one of us carries within."
In another achievement of keeping up her public presence during restrictive times, Sellvida took part in an episode of the Sky Arts TV show Landscape Artist of the Year 2020 on January 27, 2021, submitting a mixed media collage entitled Brooklyn Bridge.
Photos in this article are by Peter Croudace and Mada Novac.
Art in time of a pandemic, a solo exhibition by Sellvida (Silviya Georgieva) will run from May 22 to June 5, 2021 at the Bulgarian Cultural Institute, Sofia Gallery, 186-188 Queen's Gate, London SW7. The project is supported by the National Culture Fund, Bulgaria, and Bulgarian Cultural Institute, London. The artist will be present on the opening weekend.
To view Sellvida's portfolio, visit these links:
https://www.saatchiart.com/sellvida//
and
https://www.instagram.com/sellvida/?hl=en
and please see: