Hot Port News from GAC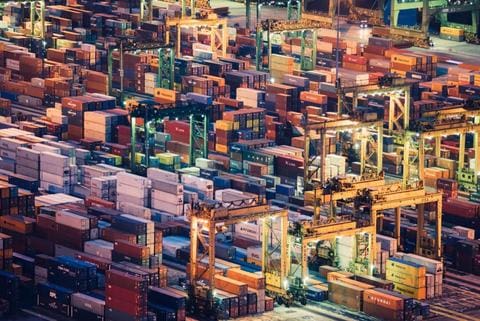 10-Jun-2021
CHANGE IN HOT PORT NEWS EMAIL DOMAIN
Worldwide
FIRST CAPESIZE VESSEL AT ANCHORAGE
Kolkata, India
CESSATION OF FORCE MAJEURE
Karaikal, India
CANCELLED VOYAGE PENALTY (REVISED)
Nigeria
STRIKE NOTICE GIVEN
Montoir / Saint Nazaire / Nantes, France
Change in Hot Port News email domain
Thursday, June 10, 2021, Worldwide
From mid-June 2021, GAC's domain for Hot Port News and Corporate News emails will change from @gac.com to @gacnews.net.
This means that future Hot Port News emails will be sent from hotportnews@gacnews.net instead of hotportnews@gac.com.
As a subscriber, there is a chance that emails sent out from this new domain may be blocked by your email provider or end up in your spam folder.
To ensure you continue to receive updates you have subscribed for, we suggest that you whitelist the domain @gacnews.net and/or the email address hotportnews@gacnews.net in your email settings.
For further enquiries, contact corpcomms@gac.com.
First Capesize vessel at anchorage
Thursday, June 10, 2021, Kolkata, India
Kolkata Port System has achieved a new milestone with the arrival of the first Capesize vessel at Sagar Anchorage.
The 291.98m LOA vessel with a cargo of steam coal bound for Nepal from Abbot Point in Australia called at Sagar after discharging part of its cargo at Vizag.
Lighterage operations are underway using two floating cranes, with the cargo being transported by barges and subsequently handled at the Haldia Floating Terminal, outside the lock gate.
For details about operations in India, contact GAC India at india@gac.com
Cessation of Force Majeure
Thursday, June 10, 2021, Karaikal, India
We refer to our letter dated 8 May 202 whereby owing to COVID-19 pandemic, Karaikal Port Pvt Ltd notified Force Majeure Event…
…In light of various unlock guidelines issued by the Government of Puducherry and the Government of Tamil Nadu, as well as keeping in mind the fact that port services are categorized as 'Essential Services', we inform you about the cessation of the Force Majeure Event from 0000 hours on 8 June 2021…
…Although the impact of the said Force Majeure continues and we are contemplating the extent of its impact, we endeavour to normalise the port services as soon as possible and practicable.
(For information about operations in India, contact GAC India at india@gac.com)
Source: Extract from Karaikal Port Private Limited letter dated 8 June 2021
Cancelled voyage penalty (revised)
Thursday, June 10, 2021, Nigeria
Any cancelled voyage call to a Nigerian port will be charged amounting USD 2500 or 10% of the provisional bill, whichever is higher.
For further details and information about operations in Nigeria, contact GAC Nigeria at nigeria@gac.com
Strike notice given
Thursday, June 10, 2021, Montoir / Saint Nazaire / Nantes, France
Local federation port & docks CGT, following call of their national federation, filed a strike notice at Montoir / Saint Nazaire / Nantes, as follows:
No more overtime and derogation (already in force since 1 June);
24 hour work stoppage from Friday 18 June at 0600 hours until Saturday 19 June at 0600 hours (from 0500 hours on 18 June to 0500 on 19 June for Nantes).
There will be no impact on LNG terminal & Donges terminals.
(For information about operations in France, contact the GAC Dubai Hub Agency Centre at hub.ae@gac.com)
Source: Sea-Invest Shipping Agency – GAC network agent
GAC is a global provider of integrated shipping, logistics and marine services dedicated to helping customers achieve their strategic goals at thehighest levels of quality, safety and compliance.