Twelve central banks speaking at the OMFIF Sustainability Policy Institute Symposium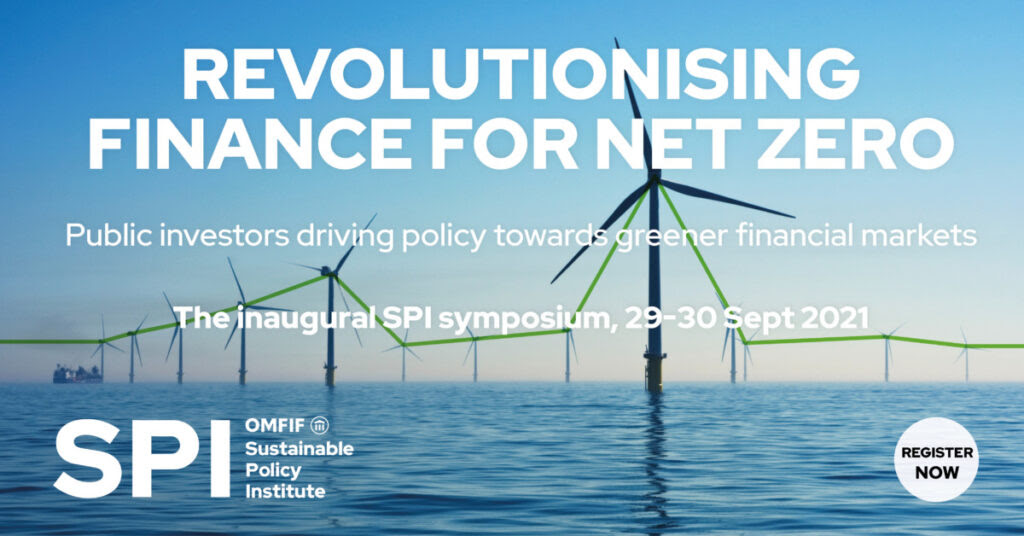 With four governors and 12 central banks participating, OMFIF's Sustainable Policy Institute is convening a unique global network of key policy-makers, regulators, public and private sector investors and environmental, social and governance experts. This two-day virtual symposium on 29-30 September 2021 will provide crucial insights into COP26 preparations, scaling up ESG capital markets and green assets, as well as the latest green regulatory mandates. It will allow participants to make their voices heard, drive the net-zero agenda, challenge the status quo and move the industry to meet climate mitigation targets.

Key topics of the discussion will include:
Insights into COP26 and actions to take forward
Policy, supervision, regulation and the role of central banks
Scaling up sustainable capital markets and green assets
Implementing ESG criteria in reserves and asset management
Data governance, metrics and solutions
Biodiversity considerations and latest developments in ESG technologies
Green regulatory mandates and the G20
Emerging market role in fostering green finance
European Union, US and Asia Pacific approaches to action.
We are pleased to announce some of confirmed speakers below, click to view the full line up.

Have your voice heard and network with attendees and speakers
The symposium will be held on Swapcard, which allows attendees to:
Interact in live discussions by sending questions and participating in polls
Participate in forum discussions
Network with all other attendees and speakers by adding them as connections, sending private messages and arranging one-to-one meetings.
​​​​​This makes the SPI symposium a unique opportunity to those interested and invested in ESG issues to have their voices heard and connect with influential players in this field. ​​​​​​
​​​​​​
Themes
SPI member symposium partners
Symposium supporters: