Georgina Allen: Landscape, Still Life, Abstract at Piers Feetham Gallery, Chelsea
By James Brewer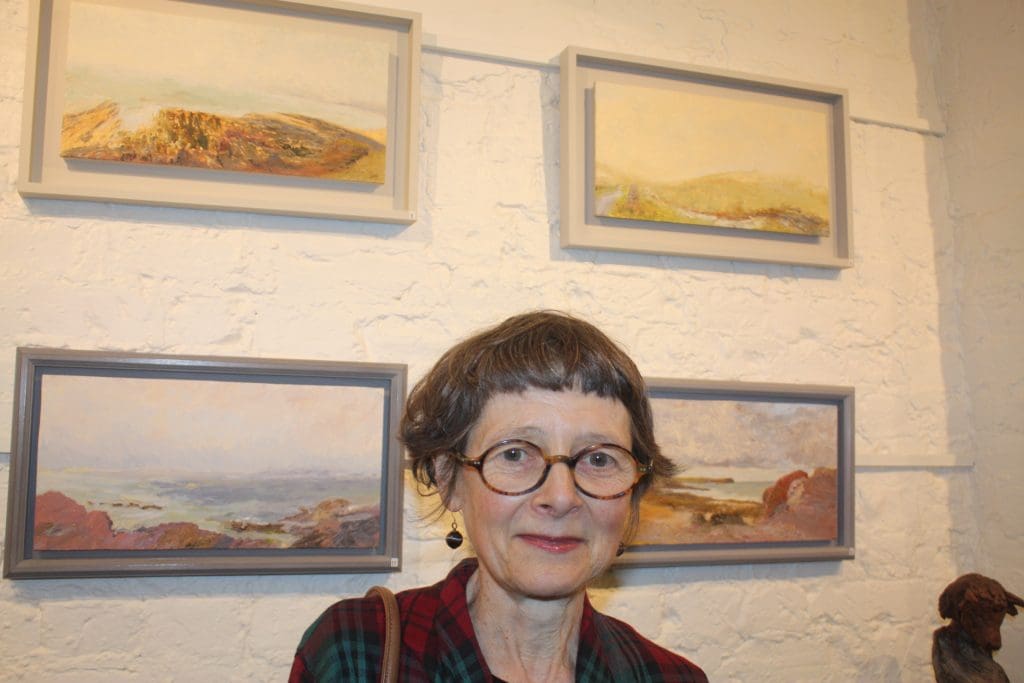 Vast skies tower over the landscapes in many of Georgina Allen's paintings. Their intensity sets the mood for the viewer but too often their portent has turned out to be less than friendly to the London artist.
Although Georgina loves working en plein air at appealing locations in England and Wales, the weather over the last couple of years has been so blustery that she has spent much of the time recording the scenes en voiture – that is, from her car. She says that her vehicle has become a travelling studio "like Monet's boat, and I'm sure his boat must have got as paint splattered."
Prolific as ever, Georgina is presenting no fewer than 88 works at the Piers Feetham Gallery, which is as welcoming a Chelsea venue as ever since pandemic restrictions were eased this summer. Her paintings – some oil on wood, others oil on linen – are ideally suited to be shown under the subtle, skilful illumination and installation layout of the gallery. Allied to his eye for fine artwork, gallery owner Piers is a master of lighting, framing and display.
Georgina wields her brushes with a feathery touch – "there is strength in the fragility" of her oeuvre, commented a fellow artist during the private view evening. Remarks in the guest book included "evocative, sensitive landscapes" and "hugely exciting show."
As ever, Georgina has been drawn to the coast of Pembrokeshire, with which she has family connections: her grandfather too was a noted painter. She is well-travelled in the UK. By dint of her memorable images, we can journey with her to the Brecon Beacons, the Peak District, Herefordshire, the Cotswolds, Teesdale, Cornwall, and Wiltshire, "enjoying the different shapes of hills and different light," as she says. Wherever she arrives, she stays true to her distinctive aesthetic.
The results are complemented in frames usually of modest size, around 40cm by 20cm or vice-versa, perhaps the more comfortably to be worked by someone of petite stature. Within the compact compass, though, there is always a compelling dynamic, a tension between the simplicity of each scene and the energy and visual flair she applies. Each time, her style manifests itself as fully developed, and unforgettably, even when chronicling rough terrain breathes a soft-edged atmosphere.
Thus, she takes a radically different eye to the Pembrokeshire beach and purple rock strata of Freshwater West, which she has pictured in oil on wood, to the movie makers who have been drawn to the area, which is noted for its capricious tides and strong currents. Freshwater West featured in Ridley Scott's Robin Hood and in Harry Potter and the Deathly Hallows; and in Their Finest (2016) the beach was used to portray Dunkirk.
Another favourite Pembrokeshire spot is Angle Bay at the mouth of the Milford Haven Estuary, where the tidal reach is strong. She is much taken with the cliffs of Trevallen Downs, on the south coast of the county, which are popular with experienced climbers.
In Wiltshire, Georgina was attracted to the vast plains and roomy horizon of rural Cranborne Chase, a part of the English Chalk Formation that is designated an Area of Outstanding Natural Beauty.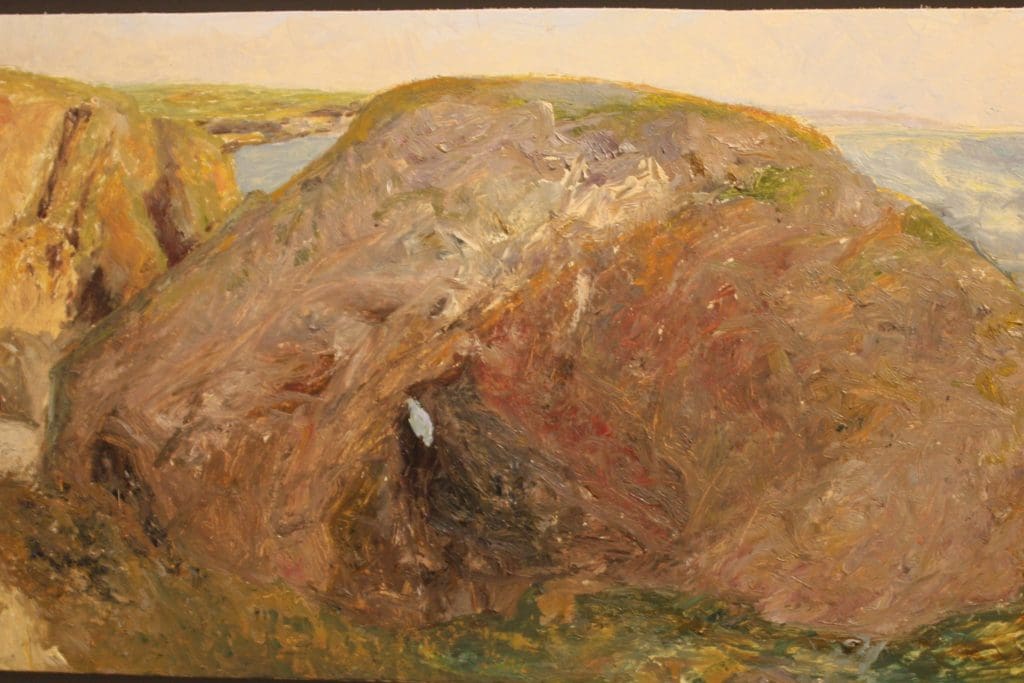 Returning to her studio at home, Georgina sets out along a calmer pathway. She works and re-works arrangements of her considerable collection of small 'found objects' which she has scattered across the floor, as the basis for a series of still life studies that works together and separately. "They allow me to paint abstract pictures about the relationships between the objects while also enjoying the objects themselves," she writes in the exhibition catalogue. "They also sometimes, I feel, suggest a slightly surrealist narrative." Putting them together is like playing "three-dimensional noughts and crosses, as the paintings relate, echo, contrast and work off each other."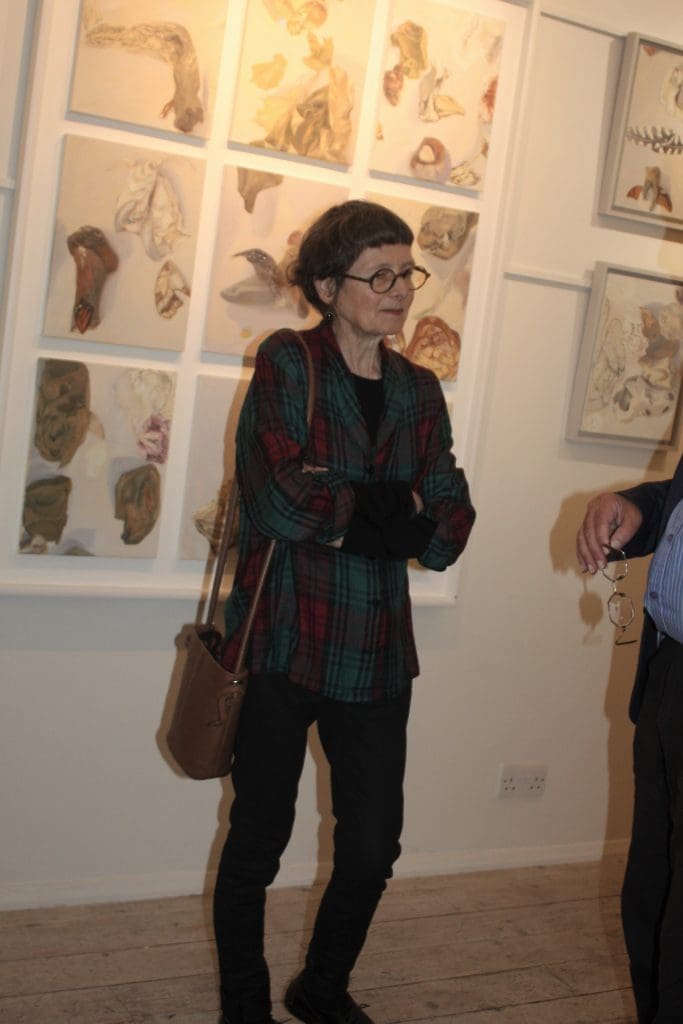 Incorporating these objects into the landscape depictions has materialised as her 'abstracts' to a degree that the landscape element becomes what she says is merely a memory.
One ingenious masterwork stands out in the show. Georgina assembled nine of her oil-on-linen still life pieces into a panel, calling it a Cabinet of Curiosities.
Lending a fresh perspective by locking in the essence of her persuasive approach., the 146 cm by 116 cm grouping drew much admiration during the private view. The title recalled the 18th century cabinets of curiosities, small collections of seemingly mysterious objects acquired on exotic journeys, and which attempted to evoke the wonders of the natural world. An article written by Giovanni Aloi for Sotheby's Institute of Art offers a definition that "the cabinets were not meant to be scientific—they were a place of the imagination in which those who could afford to do so, constructed their own personal versions of the world."
Georgina Allen. Landscape, Still Life, Abstract paintings is at Piers Feetham Gallery, 475 Fulham Road London SW6 until October 9, 2021. piersfeethamgallery@hotmail.com