The Wind Propulsion Innovation Awards 2021 Shortlist and Voting Announced
London, 22 October 2021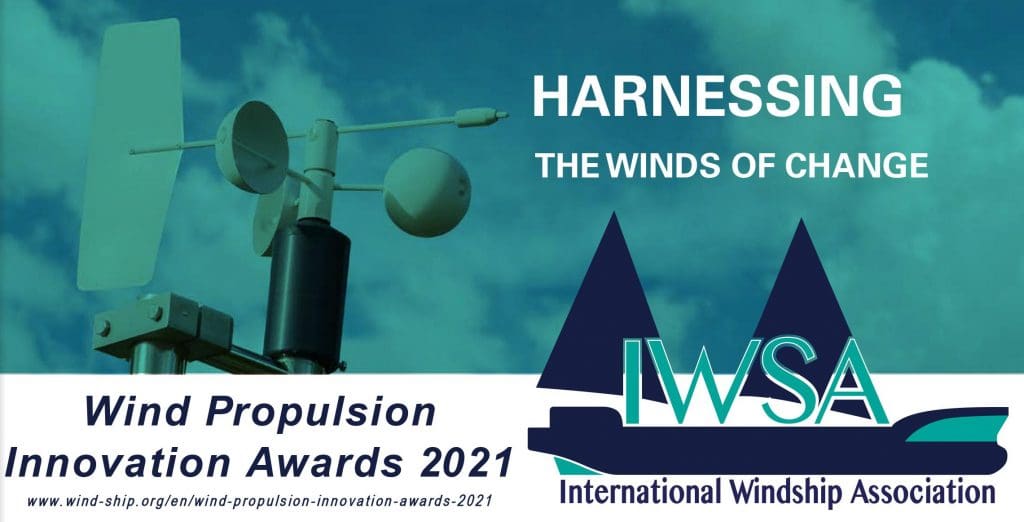 The International Windship Association (IWSA) has today announced that the shortlist for the second Wind Propulsion Innovation Awards has been released and the voting booths are open.
The awards recognise pioneering projects, technological innovation and the development of wind propulsion as technically and commercially viable solutions within the shipping industry. These awards aim to highlight positive decarbonisation projects underway in the world of shipping and therefore the organisers have aligned the awards with the build up to COP26. Voting will continue up until Sunday, 07 November and then the virtual awards ceremony will be held on 11 November 0900-1030 (UK time), live from Glasgow.
"We are delighted to launch these awards which have attracted over 80 nominations. Those have then been whittled down to a shortlist for voting by 27 judges from across the shipping industry including wind propulsion experts, shipowners, naval architects and decarbonisation thought leaders." says Gavin Allwright, IWSA Secretary General, he continues, "wind propulsion stands as a clear 'good news' story for the shipping industry as a zero-emissions energy source, with technologies being rolled out today."
There are four categories in this year's awards open for public vote:

The Wind Propulsion Innovation Award for developers of innovative technology and installations received more than 20 nominations alone. This award is sponsored by the American Bureau of Shipping (ABS). Seven companies are shortlisted: Anemoi, AYRO/VPLP, Norsepower, VALE SA, Windship Technology, WISAMO from Michelin and Wind Wings from BAR Technologies and Yara Marine Technologies.

The Wind Propulsion Technology User Award, sponsored by Thordon Bearings will be presented to a company championing the use of wind propulsion through installing systems on ships. The shortlist includes CMES-DCIS, Mitsui O.S.K. Lines, Scandlines, Rord Braren, VALE SA and Van Dam Shipping.
The Wind Propulsion Projects Award spotlights innovative projects that are furthering the uptake of wind propulsion, tackling barriers or developing new technology and hybrid configurations. This award is sponsored by Wärtsilä Marine Power and the shortlist includes: HHx-ESLA, Oceanbird, MOL's Windhunter, the EU WASP project and the WiSP Joint Industry project.
The Small Vessel Award is sponsored by MARIN and was also a very popular category, the shortlist includes projects spanning the globe from Costa Rica, to the South Pacific, Australia and Europe, they are; Advanced Wing Systems, Blue Schooner Co, Ecoclipper, Grain de Sail, Project Cerulean and SAIL CARGO Inc.
You can learn more about the projects and technologies and register your vote at: https://www.wind-ship.org/en/wind-propulsion-innovation-awards-2021/
The other three categories will be voted on by IWSA membership with two research categories, the first bieng a Completed Research Award, with five important research papers and reports by research teams from Europe, Egypt, Saudi Arabia and the USA shortlisted and that award is sponsored by The Royal Institution of Naval Architects (RINA), Kühne Logistics University (KLU) Hapag-Lloyd Center for Shipping and Global Logistics (CSGL), Dealfeng New Energy Technology and Econowind. The Proposed Research Award has four proposals up for the vote and is in turn sponsored by Green Marine, Norsepower and Yara Marine Technologies. The final award is for Outstanding Contribution to the Wind Propulsion Sector and for more details on the research papers and these shortlisted wind propulsion pioneers: Bertrand Charrier, Diane Gilpin, Kazuyuki Ouchi, Lauren Eatwell, Marc Van Peteghem and Tuomas Riski, can also be found on the Awards page.
If you are interested in new developments in wind propulsion, curious about shipping decarbonisation or simply want to check out some really cool green shipping ideas, then come aboard and make your vote count.