Pop artist Marta Boros celebrates her first solo show in London
By James Brewer
Artist Marta Boros is having her first solo show in London – and is thrilled that it is featured at the most iconic venue in her favourite district, Notting Hill.
Until November 28, 2021, the gallery at The Tabernacle – an enormous community arts centre where over the years the stage has hosted luminaries ranging from the Rolling Stones to Pink Floyd to Adele – houses her distinctive images that pose questions about the contemporary role of women in society.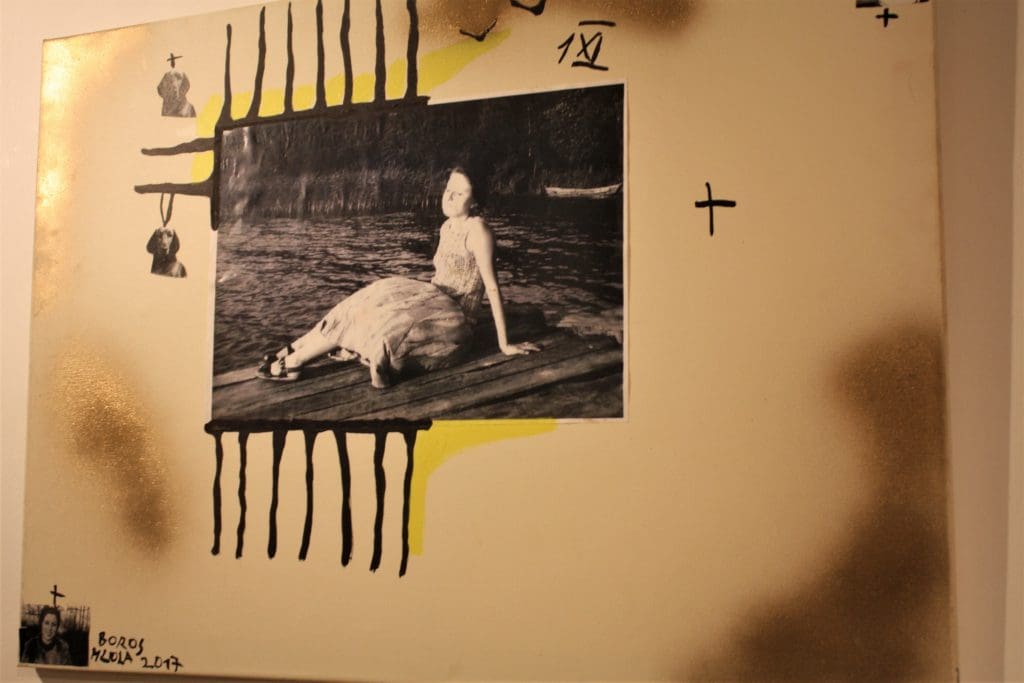 In a dozen arresting abstract and still life paintings, Marta marks out stages of her life, but this is more than just an autobiographical story. Incorporating images from her childhood and the complexities of adulthood, the collaged artworks spell out a feminist message from a strong woman who has the raw courage to commit her emotions to scrutiny. Some canvasses she signs with Lola in her name, others with Mandy, recalling affectionate names used by her family.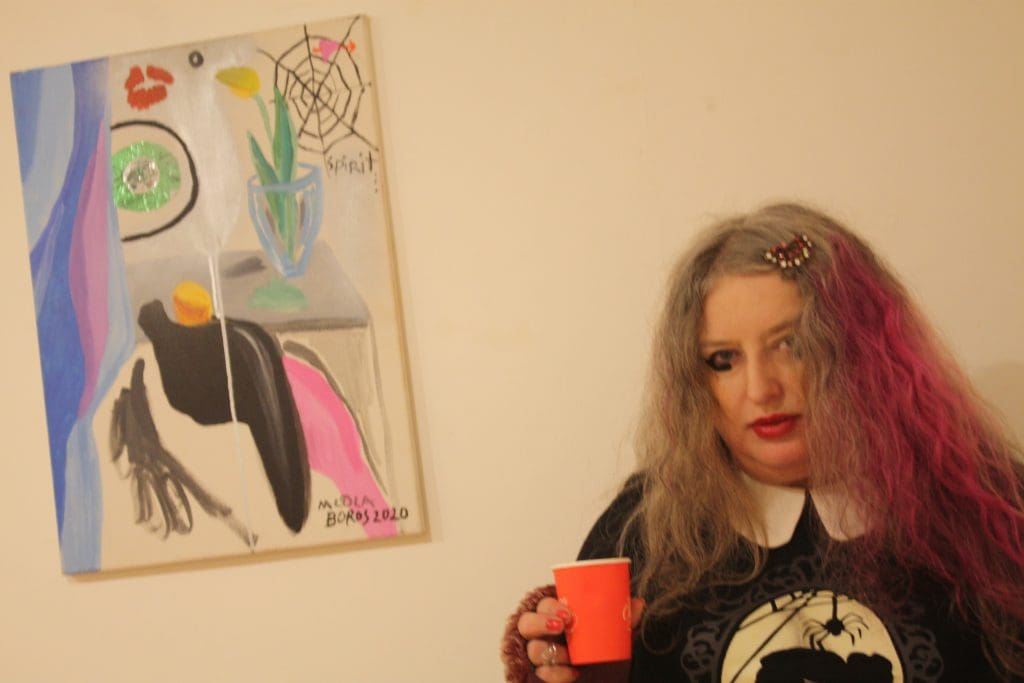 Bold, clear colours in acrylic on canvasses full of light beckon the viewer into an unsentimental but far from hostile arena. She characterises her subject matter as "love, inspiration and beauty."
Marta is a Polish artist living in west London who graduated from art college in Warsaw in 1995. She says that in her early years as an artist she paid close attention to the still life studies of the post-impressionist Paul Cézanne as well as to the Pop artists including Andy Warhol, but she long ago set out on her own radical and existentialist track which was the feature of her first solo show a while ago in the Polish capital. There are no comparisons to be made – this show is quintessentially Marta Boros.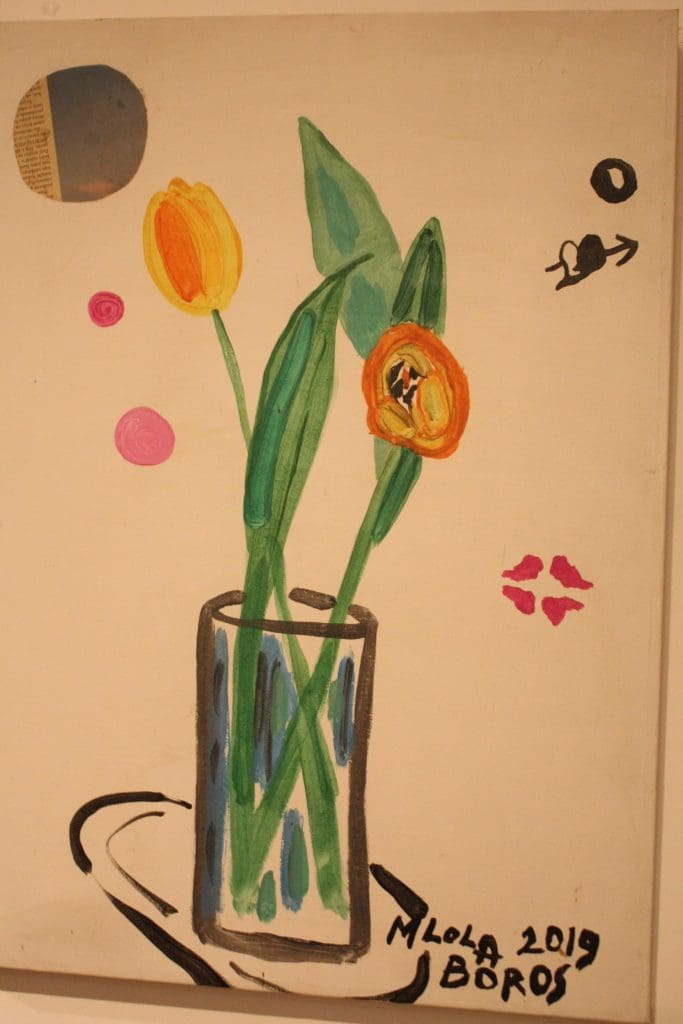 Admiring friends of diverse backgrounds from the Notting Hill area and the wider London arts scene packed the Tabernacle private view on November 22 which proved a field day for photographers as the guests grouped in poses relishing the show.
There was an exciting interlude as the crowd gathered round to hear Marta invite a friend named Galliane to read three of each of their poems: poetry is one of the artist's first loves.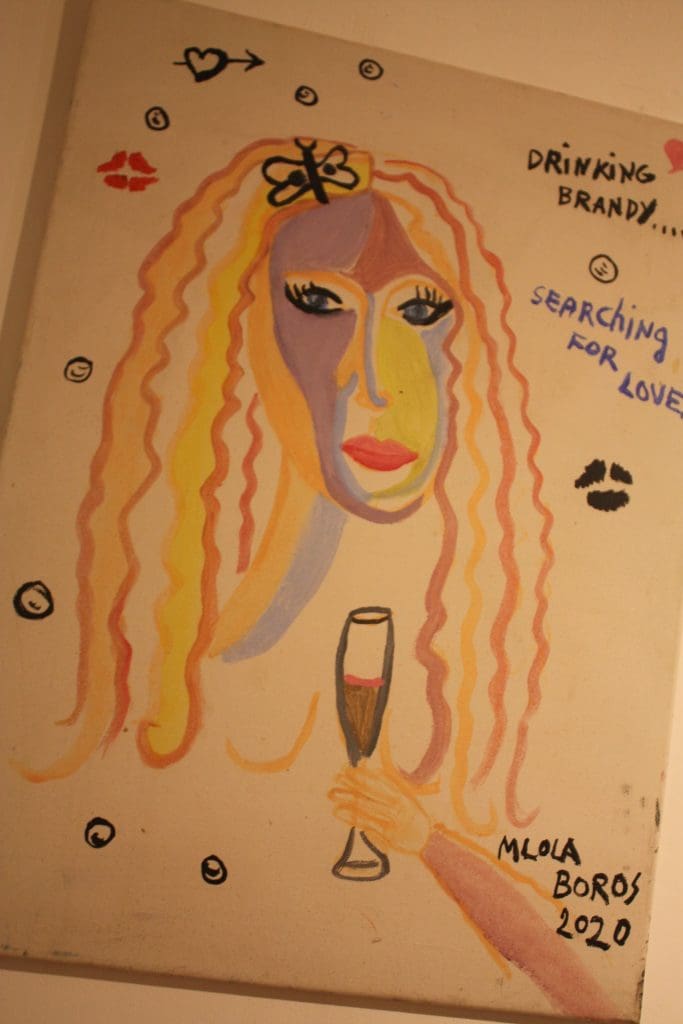 First-time visitors to the Tabernacle were intrigued by the building, which has been described as "the Taj Mahal of North Kensington." It was founded as an evangelical Christian church and boasts an imposing Romanesque curved façade of red brick and terracotta with spired towers on either side dating from 1888. In its early years it was known as the Talbot Tabernacle.
During the 1990s The Rolling Stones and Pink Floyd rehearsed there and in 1998, the place reopened after a £4m refurbishment, with a new hall, studios, commercial art gallery, bar, and restaurant. In the 21st century it hosted Santana, Adele, Florence + the Machine, Jarvis Cocker of Pulp, Take That, Jamie Callum, Ellie Goulding and many other big names in the rock and pop scene.
Current routine offerings include performances and workshops in classical ballet, Afro-Brazilian music, and seasonal fairs and pantomime.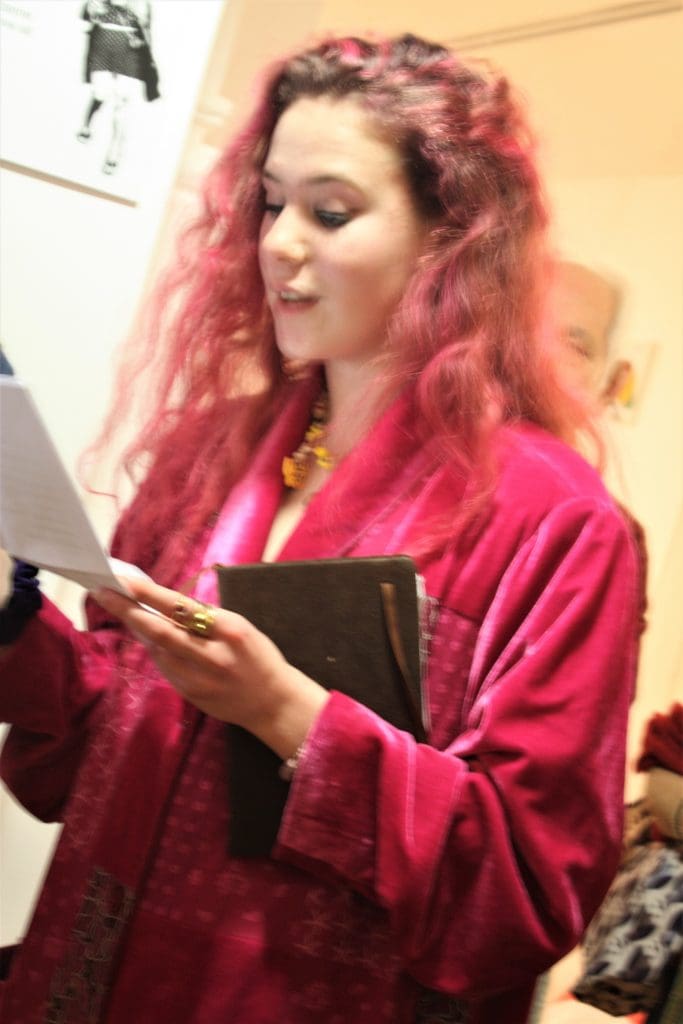 Its location, Powis Square, has been associated with West Indian blues, reggae, and many other cultures, and on the negative side with Peter Rachman the reviled slum landlord whose affairs with Christine Keeler and Mandy Rice-Davies meant he featured in the 1963 Profumo affair; and with the Notting Hill race riots.
Marta Boros, artist, solo show is at the Tabernacle, 34-35 Powis Square, London W11 until November 28, 2021.