HELMEPA – US Coast Guard Engagement for the better preparation of Seafarers and Vessels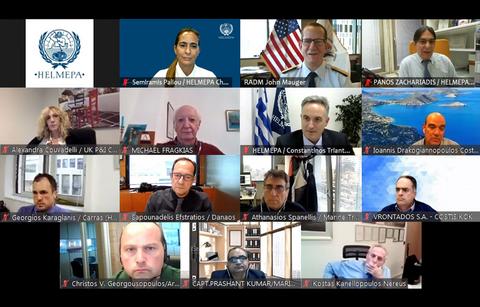 With the aim to optimize the preparation of Seafarers and Vessels for PSC inspections in US ports, as well as to further enhance safety, pollution prevention and sustainability, representatives of managing companies-members of HELMEPA addressed their questions directly to Rear Admiral John W. Mauger, Assistant Commandant for Prevention Policy of the US Coast Guard.
This year, the long-established HELMEPA – US Coast Guard Annual Meeting in Washington, D.C., was held online due to Covid-19 restrictions, on Tuesday 23 November 2021, maintaining an open dialogue and highlighting the long-standing cooperation of the Hellenic Marine Environment Protection Association – HELMEPA with the leadership of the US Coast Guard, as mentioned in the welcome address by HELMEPA's Chairperson, Mrs Semiramis Paliou. The bilateral dialogue was coordinated by Mr. Panos Zachariadis, member of HELMEPA's Board of Directors.
Congratulating HELMEPA on its work over the past 40 years and thanking the association's members for their contribution to the global economy and sustainability, Admiral Mauger presented the latest developments regarding foreign-flagged vessels trading in the US, focusing on the triple challenge of increased capacity of the maritime transportation system, digitalization/automation and zero environmental impacts.
His presentation covered all current issues, such as the impact of COVID-19 on maritime activities, autonomous vessels and alternative fuels, control of ship discharges through the forthcoming Vessel Incidental Discharge Act (VIDA), ballast water management and biofouling, remote inspections and new technologies, crew wellness and cybersecurity, which is a central pillar of US policy.